Announcement of 2021-2022 Faculty Fellows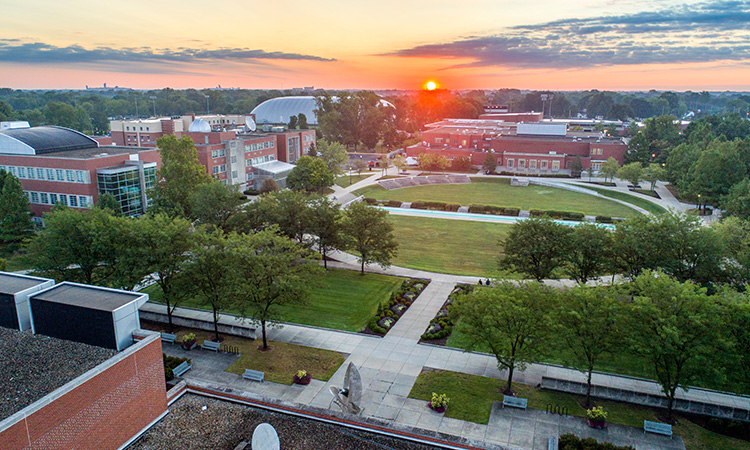 It is our pleasure to announce the 2021-2022 Fellows at the University of Indianapolis. As the university continues to grow, the addition of fellowships is an important way to both continue supporting faculty development and broaden opportunities that enhance the academic life of our campus.
Fellows participate in a competitive application and selection process. Once selected, these faculty are engaged in creating new projects, implementing initiatives, making new connections, developing and/or delivering curriculum, supporting programs, enhancing our mission driven goals, studying topics of interest to the UIndy community, and much more.
This year's fellows include:
Faculty Development Fellows: these individuals help advance faculty development at the University of Indianapolis by offering mentoring, individualized support, workshops, and curriculum focused on teaching, scholarship, service, and professional development.
Julie Gahimer – Physical Therapy
Brenda Howard – Occupational Therapy
Melissa Ketner – Social Work
Penny Moyers – Occupational Therapy
David Olawale – Engineering
Angie Ridgway – Education
Najmus Saqib – Engineering
Ramiro Serrano-Garcia – Business
Sarah Wareham – Education
Laurie Williams – Music Education
Gender Center Fellows: The fellows are faculty and staff members who help further the mission of the Center. Their experience, passions, and visions will help the Center in continuing its role as a place to incite dialogue and action on issues of gender, sex, and sexual orientation for UIndy and our wider community.
Lauren Carter – Center for Advising & Student Achievement
Anthony Cory – School of Nursing
M.J. Loria – Psychological Sciences
Provost Fellows: For 2020-2021 the inaugural opportunity was given to the Shaheen College of Arts & Sciences. The purpose of the award is to support leadership development for college and school-level administration as well as, more broadly, higher education administration.
Eduard Arriaga – Global Languages and Cross-Cultural Studies
Joseph Herzog – R.B. Annis School of Engineering
Karen Newman – English
Kevin Whiteacre – Criminal Justice
Laura Merrifield Wilson – History and Political Science
Colleen Wynn – Sociology
Public Voices Fellows: these fellows will complete a year-long, intensive program in which they learn how best to frame their academic expertise for a more general audience through writing OpEds and practicing media presentations.
Jessica Bannon – English
Katie Boucher – Psychology
Emma Eckart – Counseling
Heidi Ewen – Interprofessional Health & Aging Studies
Ana Maria Ferreira – Global Languages
Ted Frantz – Political Science
Sara Galer – Associate Vice President of Communications
Samantha Gray – Psychology
Melissa Ketner – Social Work
Amanda Miller – Faculty Development and Sociology
Leah Milne – English
Brad Neal – Chemistry
Karen Newman – English
Alyson O'Daniel – Anthropology
Kendra Thomas – Psychology
Stephanie Wideman – Communication
Laurie Williams – Music
Laura Merrifield Wilson – Political Science
Colleen Wynn – Sociology
Elizabeth Ziff – Sociology
Strain Honors College Fellows: The primary purpose of the fellowship is to support the students of the Stain Honors College through teaching and mentorship or service.
Emily Miller – History and Political Science
Marc Milne – Biology
Nicholas Soltis – Physics and Earth Space Science
Jordan Sparks Waldron – Psychological Sciences
Elizabeth Ziff – Sociology
Please join me in congratulating these outstanding faculty members and be sure to ask them about their projects and progress!