Congratulations 2021 Faculty & Staff Achievement Award Winners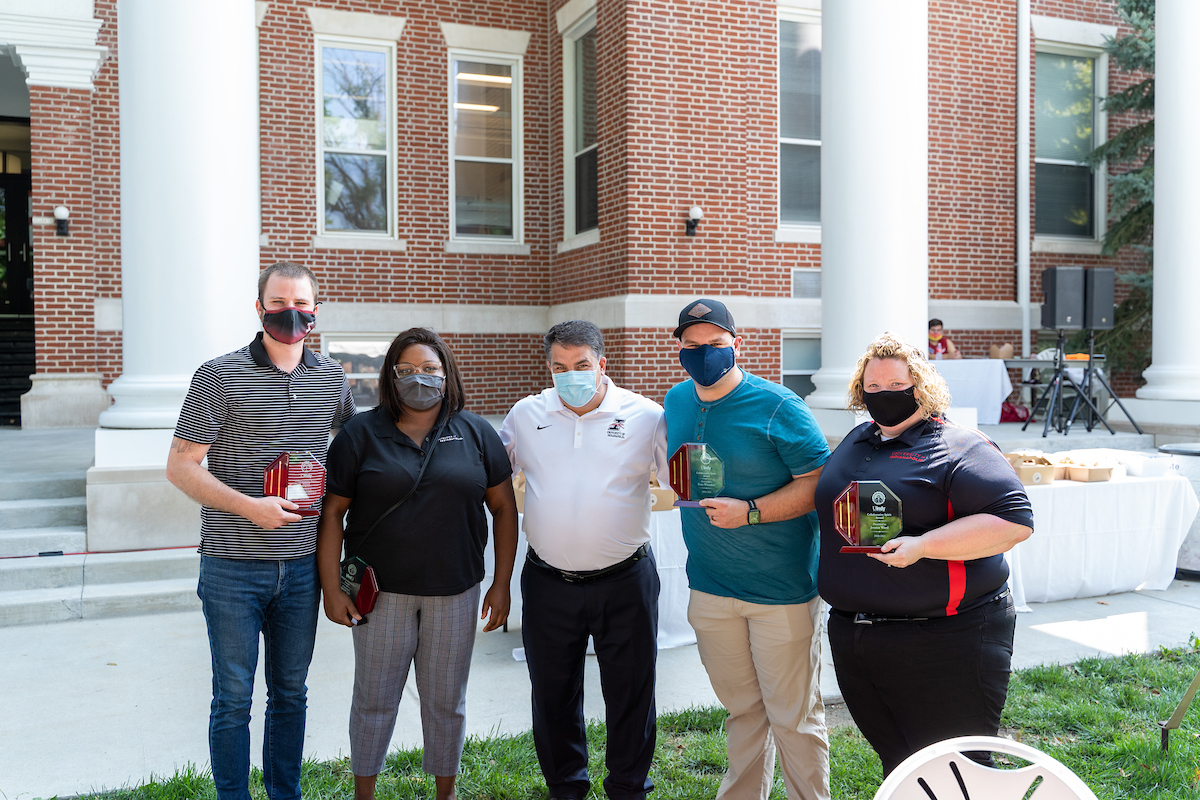 The Institutional Leadership Award
Dr. Diane Smith, assistant professor, School of Nursing
The Institutional Leadership Award recognizes faculty members who demonstrate exceptional leadership in advancing a program, committee, task force or other group to achieve goals of importance to the University.
Diane has championed initiatives to help faculty and students within the School of Nursing. She is an excellent resource for her fellow faculty members for Brightspace, providing weekly lessons throughout the spring and summer. She also served as the interim director and has become the permanent program director of the online programs in Nursing.
Her nominator says "she demonstrates every day first-hand what it means to be a leader in clinical practice to our students. She is recognized as an expert for her faculty role and is sought out to provide clinical leadership expertise to those nurses in clinical nursing leadership positions."
The Institutional Leadership Award
Dr. Heidi Hancher-Rauch, professor, Department of Kinesiology, Health & Sport Sciences
Heidi provided leadership for faculty across the University in one of the most challenging times our institution has seen in recent history as she helped guide the university's response to COVID-19. She served as both a member of the COVID-19 Task Force and the Contact Tracing Team; which she developed. All this, of course, in addition to her traditional duties as a faculty member; where she was also instrumental in helping shape the safe return to clinical, hands-on labs and face-to-face research.
Education for Service Award.
Dr. Sarah Wareham, assistant professor, School of Education
The Education for Service Award recognizes faculty members who best represent the UIndy motto of "Education for Service" in teaching or scholarly work. Sarah, entering just her third year as full-time faculty member exemplifies service leadership in every aspect of her career.
She represents the School of Education on the Undergraduate Curriculum Committee; as well as serving on the School's Mission and Vision and DEI Committee. She assisted many colleagues in transitioning to online learning and spent countless hours making sure classes were being offered at a high quality even in a short time frame. She is also a sought-after panelist on the topic of autism and provides excellent resources on how to educate children with learning disabilities; and has worked with potential employers of UIndy graduates to better understand how to engage with college students who struggle with autism during interviews.
Connecting Expertise with Action Award
Cathy Miller, assistant professor, School of Nursing
The Connecting Expertise with Action Award recognizes a faculty member who has successfully pursued work across disciplinary lines in the areas of scholarship, program development, curricula, service, or coursework. Cathay has a passion for preparing students to respond in emergency medical situations.
She has developed a credited Advance Cardiac Life Support course for undergraduate students, building on the foundation of Basic Life Support, or CPR. She has presented on this topic at many institutions in hopes of helping other schools develop and implement an ACLS course of their own. The dedication displayed by this honoree will ultimately prepare UIndy graduates to provide care at a much higher level than expected of normal nursing graduates.
Emerging Scholar Award
Dr. Mason Burns, assistant professor, Department of Psychological Sciences
The Emerging Scholar Award recognizes a faculty member who is new to higher education and within the first four years of service. The individual must have demonstrated significant progress toward implementation of a successful scholarly agenda. Mason is in his fourth year as a faculty member. His research focuses on developing and implementing interventions to reduce the experience and expression of prejudice.
He translates his theoretically driven research findings to help diversity and inclusion programs and has plans to develop and implement portable stereotype and prejudice reduction interventions in workplace and educational settings. Since starting at UIndy in the Psychology department, he has established a promising research program that involves multiple students across CABS—including undergraduate, Honors, masters- and doctoral level students.
Emerging Scholar Award
Dr. Nathan Johnson, assistant professor of Religion
Nathan's nominator says "I have never come across a faculty member who has achieved so much as a scholar in so short a period of time." His scholarly production, and the quality of that scholarship demonstrates a potential to become a leading authority in his field.
In just two full years at UIndy, this honoree has multiple published peer reviewed journal articles, book chapters, reviews, has served as a managing editor for a series that will produce ten books; and has his own manuscript under review at Cambridge University press. He is also an excellent teacher who is dedicated to his students and their growth.
Outstanding Faculty Award
Dr. Jennifer Camden, professor, Department of English
The Outstanding Faculty Award recognizes a faculty member who has demonstrated exemplary integration of teaching, scholarship and service. Jennifer is an outstanding professor within her majors and gen-ed students alike. She teaches all levels, from FYS seminars to graduate classes and everything in between, and is remarkable in all of them.
Her summer 2019 Scotland summer program, as well as her annual Communiversity course (in addition the "regular" classes she teaches), highlight her dedication to transformative educational opportunities for our students and her commitment to lifelong learning. She also uses our special topics course in ways that bring new areas of knowledge (such as LGBTQ literature and theory, which she taught this past semester) and experience (such as her 2020 Book Editing course, part of a multi-course and multi-department collaboration to create an edition of an out-of-print text). She also serves her department as Associate Chair, and the University, and the Honors College where she has been Associate Director and Interim Co-Director, and currently serves as the Beverley J. Pitts Distinguished Professor.
Outstanding Scholar Award
Dr. Christopher Schmidt, professor of Anthropology
The Outstanding Scholar Award recognizes a faculty member whose scholarly work has received substantial external recognition. Chris' impact on his sub-discipline is evident in his significant publication record, which includes a single-author book, two edited volumes, and 54 peer-reviewed journal articles and book chapters (including 23 in the last 5 years alone).
Many of these journal articles and book chapters are co-authored by UIndy students and alumni, reflecting his long history of faculty-student collaborative scholarship. His expertise is regularly sought out for local bioarchaeological projects. In 2018, Cardno, a local cultural resource management firm, contracted him to excavate and analyze historic burials from a Euro-american cemetery being relocated by the Indianapolis International Airport. Currently, he and his students are working to recover remains that were accidentally discovered by construction in Columbus, Indiana.
Teaching in the Core Award
Dr. Kara Cecil, assistant professor, Kinesiology, Health & Sport Sciences
The Teaching in the Core Award recognizes a faculty member who has demonstrated excellence in teaching core coursework for undergraduate students. Kara is a dedicated and hard-working colleague who has given of her free time to help students who are fulfilling the Global Awareness core requirement.
Students consistently rank her courses highly, especially in the areas of instructor responsiveness and relevance of the assignments and activities. She links her teaching with real-world events; which greatly enhances student participation and learning. She supports the core curriculum through her strong teaching and expanding student understanding of health in our communities.
STAFF ACHIEVEMENT AWARDS
UIndy Emerging Leader Award
Emily Hancock, Admissions Counselor
The Emerging Leader Award is given to a staff member with fewer than two years of service at UIndy who has made a unique and significant contribution to the University. Emily, in just a short time, has made a tremendous impact on prospective UIndy students, as well as her other Admissions Counselors. She provides guidance to her colleagues and has developed new methods of tracking prospective students.
Although she is new to the world of admissions, she has become a shining example of what an ideal admissions counselor is. Above and beyond her typical job duties, she has also become a resident expert on two important pieces of software that the Admissions Office uses: Slate and CampusLogic.
Spirit of UIndy Award
Dave Statler, Director of Facilities
The Spirit of UIndy Award recognizes someone who goes beyond taking pride in the university, who encompasses what it means to truly live in the example of UIndy's mission. Dave approaches seemingly unsolvable tasks with a "can-do" attitude and a servant heart that reflects the mission of UIndy.
He has helped oversee a period of tremendous growth at the University, including renovations to the Physical Plant, the new R.B. Annis Hall, and the new Art & Design Annex; managing each of these significant projects while also fulfilling his duties as director of facilities. He works within tight timelines and budgets, and gets creative with physical space in order to provide for the needs of the innumerable stakeholders on campus. He does all this while embodying the spirit of UIndy and carries that energy to all these constituents in our campus community.
Collaborative Team Spirit
Professional Staff Members of Residence Life
Evan Whitaker
Robbie Williford
Ayla Wilder
Jessica Ward
The Collaborative Team Spirit award is presented to a team or department that has demonstrated successful collaboration and true teamwork. This year's team of nominees played a critical role in maintaining the student experience during the 2020-21 school year.
The University's Residence Directors stayed on campus throughout the pandemic and worked every day to provide positivity, teamwork and cooperation both for students and for the institution. They revised policies and procedures, and worked with students who had been exposed or needed to quarantine; and supported them through new ways of classroom instruction and campus changes. They never missed a beat and were always working hard to make sure that students were shown care during this difficult time.
Enhancing the Student Experience Award
Patricia Thacker, Academic Success Advisor
The Enhancing the Student Experience Award is presented to an individual who has demonstrated outstanding achievement in inspiring students through innovative practice fueled by enthusiasm. Patricia plays an integral role on our Academic Success team.
She consistently enhances our students' overall UIndy experience and her ability to connect with students and provide support is unparalleled. She is compassionate, enthusiastic, and determined to provide the best support for students and helps them overcome academic and personal challenges.
Unsung Hero Award
Julie Cripps, Administrative Assistant in the Office of Accreditation and Center for Global Engagement
The Unsung Hero Award is presented to a person who is dedicated not only to executing his or her job, but also to helping others and filling in where needed, performing tasks at a quality level, and actively solving problems — all without fanfare. Julie was nominated by individuals at a variety of levels from across the University; Project Coordinators, Provost's office, and Deans from different programs. Some of the projects she has helped pull off in the past year include arranging logistics for the 2021 Summer Research Institute, providing administrative support for the Center for Global Engagement, and preparing for the School of Engineering's accreditation visit this fall.
Her nominators repeatedly listed tasks outside of her "typical" job duties that she collaborated with others to ensure their timely completion, often having to learn as she went. One of her nominators says "She graciously steps up, always takes a calm and organized approach, and produces a product or event that is beyond what was asked of her."
Inclusive Excellence Award
CariAnn Freed, Senior Admissions Counselor for Multicultural Recruitment
The Inclusive Excellence Award is given to UIndy staff members who make noteworthy contributions that help advance inclusive excellence at the university. These individuals have demonstrated recognizable efforts exceeding their job responsibilities that promote, support, and improve equity and inclusion at UIndy, and help to enrich experiences for our faculty, staff and students.
CariAnn exemplifies the characteristics of this award. She has a strong passion for diversity, equity and inclusion; and from the moment you meet her, it's clear that she approaches every situation with the lens of social changes and equity. She uses her position in the Admissions Office to improve the college admissions experience for students who are underrepresented.
She goes above and beyond every day to educate, promote, and strives for UIndy to be diverse and welcoming for future Greyhounds. She was part of The Indiana Cultural Opportunities Network (ICON) program that is committed to bringing new programs and opportunities geared toward educating Admission professionals in areas of student equity, access, and success