Five reasons to read Herman Melville's Moby Dick with Communiversity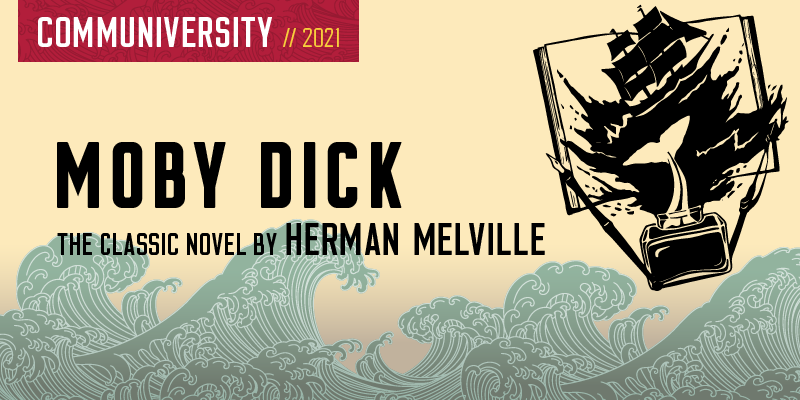 Communiversity returns to the University of Indianapolis for the Fall 2021 semester with the classic tale, Moby Dick by Herman Melville. Registration is open to the public and free.
Why pick up this famous novel? Apart from the fact that maybe you only read the CliffsNotes in high school and would now like to atone for your sins, here are five good reasons:
Tackle this whale of a novel in a supportive community of fabulous UIndy faculty, students, and community members.
When accepting the Nobel prize for Literature in 2016, Bob Dylan named this novel as one of the three books that influenced him most.
Historian Nathaniel Philbrick wrote: " For me, Moby Dick is more than the greatest American novel ever written; it is a metaphysical survival manual—the best guidebook there is for a literate man or woman facing an impenetrable unknown: the future of civilization in this storm-tossed 21st century." (from Why Read Moby Dick)
Read the novel that was almost forgotten in Melville's lifetime, but touted as the great American novel by 20th-century writers like William Faulkner, who called it the only book by another author that he wished he'd written himself, D.H. Lawrence, who called it "the greatest book of the sea ever written," and Ernest Hemingway, who wrote his publisher that Melville was the author to beat.
Don't you want to know where that ubiquitous coffee chain got its name? (Starbuck is the first mate of the Pequod!)
The following lectures will be offered this semester in coordination with Communiversity:
7 p.m., September 20, 2021 (virtual)
Chad Martin, associate professor of history, provides historical context for Moby Dick.
7 p.m., November 1, 2021 (Schwitzer 010)
Join Department of Theatre faculty Grant Williams, associate adjunct, and Penny Sornberger, associate professor, to learn about 19th-century nautical melodrama.
7 p.m., November 15, 2021 (Schwitzer 010)
Jonathan Evans, chair and professor of philosophy, brings a philosophical approach to the reading of Moby Dick.
Be sure to check the Communiversity page for updates and registration links.