UIndy hosts 'embracing the future' summit featuring mayor greg ballard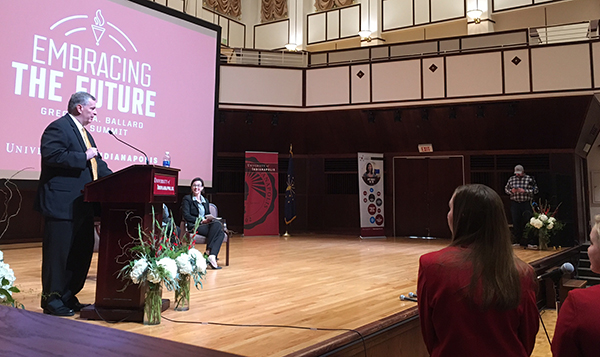 The 2022 Embracing the Future Summit featuring Gregory A. Ballard, hosted by the University of Indianapolis, will bring together high school sophomores from across Indiana for a day of discussion on dealing with change, including the transition to college, in a positive way on Saturday, March 5, 2022. Former Indianapolis mayor and University of Indianapolis fellow Gregory A. Ballard will be the keynote speaker. Mr. Ballard will be available for media interviews from 9:30 to 10 a.m.
Students will have the opportunity to participate in a question and answer sessions with Ballard as well as attend two sessions, led by John Weschler, Entrepreneur and Founder of Launch Fishers, and the University of Indianapolis School of Business, to develop the mindsets and skills necessary for students to have positive, healthy transitions into college, careers, and more.
"The multitude of changes that the last three years has brought us is enough to make even the most seasoned professionals anxious about the future," said University of Indianapolis President Robert L. Manuel. "It is vital that we prepare the next generation of college students to successfully adapt to change so that they may thrive and innovate throughout their academic and professional careers.
"I'm truly grateful for the partnership of former Indianapolis mayor Greg Ballard. Greg has proven himself to be an inspiring community leader and I can think of no one better to impart both wisdom and confidence in our students. I look forward to seeing these students learn and grow from this summit and hopefully return to the University of Indianapolis as future greyhounds."
Additionally, a scholarship of $18,000 will be available to ten students who attend the summit and ultimately decide to attend the University of Indianapolis.
A full schedule for the summit is available here.
###
About the University of Indianapolis
The University of Indianapolis, founded in 1902, is a private university located just a few minutes from downtown Indianapolis. The University is ranked among the top National Universities by U.S. News and World Report, with a diverse enrollment of nearly 5,300 undergraduate, graduate and continuing education students. The University offers a wide variety of study areas, including 100+ undergraduate degrees, more than 40 master's degree programs and five doctoral programs. More occupational therapists, physical therapists and clinical psychologists graduate from the University each year than any other state institution. With strong programs in engineering, business, and education, the University of Indianapolis impacts its community by living its motto, "Education for Service." Learn more: uindy.edu.