UIndy Speech and Debate Returns to Claim National Championship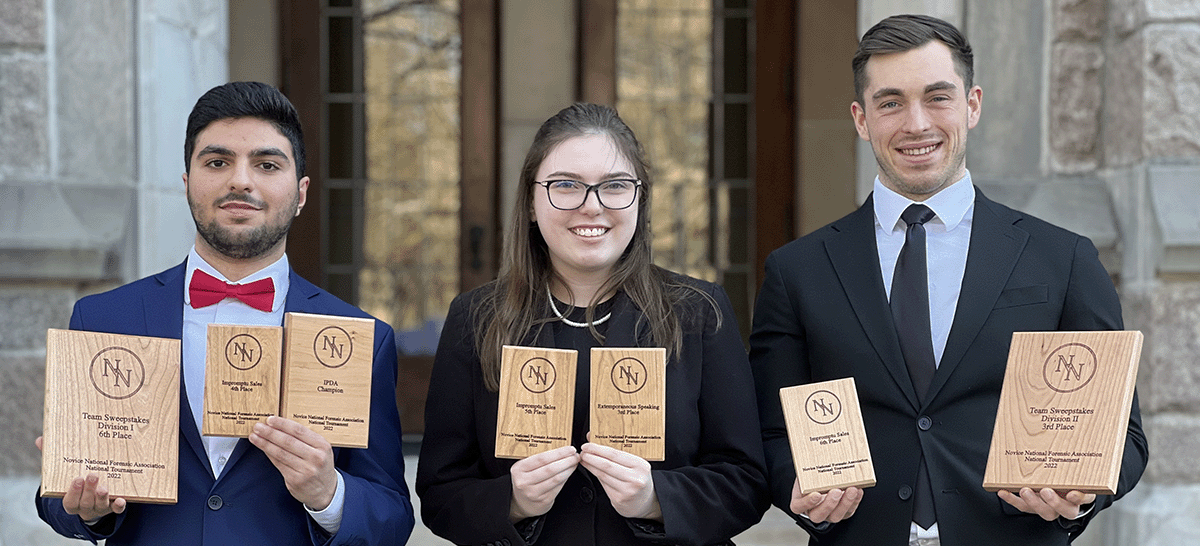 Earlier this month, the UIndy Forensic Speech and Debate team competed in the Novice National Championships, marking their return to in-person tournaments after two years. The team overall took 3rd place in Division II and 6th in the Open Division. Additionally, the first-year team members took home several individual awards, including a National Championship.
Megan Copeland '23 (Communications, Political Science, Government) placed 3rd in Extemporaneous Speaking and 5th in Impromptu Sales.
Joshua Love '22 (Software Engineering, Biology) placed 6th in Impromptu Sales.
This year also marked the return of debate on the team's roster. While there was a significant interest in debate amongst the team, the coaches were needed to prepare for the speech events. The pandemic actually helped get the team back to debate events, according to Team Director Dr. Stephanie Wideman.
"The pandemic actually gave us some opportunities to try things differently," Wideman said.
"The virtual tournaments and coaching for most of the year meant I could bring in a former student of mine, Raviteja Suryadevara who is out of state, to build up the debate side of the team."
The fruits of their labor showed as Charbel Harb '25 (Human Biology) was crowned the Tournament Champion for IPDA Debate in addition to earning 4th place in Impromptu Sales.
"For finals, I was competing against someone I've debated two times before," Harb reflected. "I've lost against them two times before. I was like, 'third time's a charm.' So it was a charm. We had a very good debate. My final topic was, 'Yes, the federal government should invest in more wide scale cancer research.' I was on [the For position]. It was a very, very fascinating final."
The team is revitalized and looking forward to keeping their momentum as they prepare for the next season.
"Our team motto comes from an ancient philosopher who says good speakers are 'Good people speaking well,'" said Wideman. "This year's team took that to a new level. Their success is a direct result of them supporting each other through these difficult times. Competing virtually is not ideal. The students were really missing traveling and getting to meet competitors from other schools. However, they persevered by getting creative and lifting each other up. The Novice National tournament was our first in-person tournament in over two years, so their success at that tournament is all the more impressive."
If you are a UIndy student who is interested in joining the Speech and Debate team, contact Dr. Wideman at widemans@uindy.edu to set up a meeting. No experience is required and scholarships are offered!