Mission Matter #75: Making Space for Black History: Titus Kaphar's Witness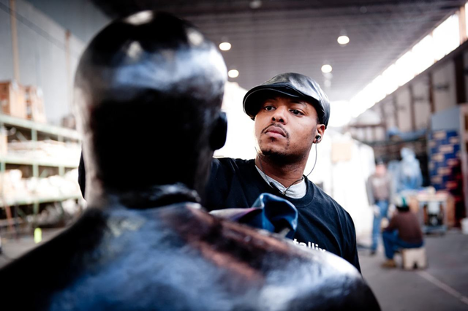 by Michael G. Cartwright
Vice President for University Mission
This is the first in a series of essays about what it means to make space for Black history at the University of Indianapolis and its predecessor institutions. In each case, one or more witnesses will be the focus of discussion. In each case, I will use their own words.
I have not forgotten my intention to address the contributions of Crispus Attucks High School alumni who were admitted to Indiana Central College in the years immediately after World War II. Indeed, I have been thinking about Mission Matters #74 quite a lot this past year. However, like other colleagues at UIndy, due to COVID's disruptions, I have had little choice but to prioritize daily tasks during the past two years.
As the 2021-22 academic year has concluded, I decided to revisit an event that took place on UIndy's campus in November 2019 as a way to re-engage my habit of writing Mission Matters reflections. Over the next five weeks, I will disseminate four or five of these reflections for faculty and staff to read as you are interested.
"Making Space for Black History" was the title of a half-day University Series event. Made possible by the Sutphin Lectures endowment, UIndy faculty, staff, and students had several opportunities to engage the guest artist, Titus Kaphar. Renowned for his provocative contributions to the emerging field of social practice art, this former MacArthur Fellow has created amazing works of art that are deeply personal and highly significant for engaging the questions of social justice.
Kaphar is a fascinating example of an artist who raises critical questions about some of the ways that placemaking has occurred in the American context over the course of the history of the United States, including the colonial era. As his presentation at UIndy made clear, he resists the temptation to instrumentalize art for political purposes. Indeed, it is very striking how often he reiterated that his approach to art is very personal. When invited to create an artwork about the death of a young Black man in Ferguson, Mo., he declined.
As a member of the committee that reviewed the proposal to bring him to campus, I remember well the sense of excitement we all had about the prospect of his visit. Thirty months have gone by, and I still recall the nine words that he repeated –"We have a lot of problems to solve here" – near the end of his presentation on the stage of the Ruth Lilly Performance Hall (RLPH) inside the Christel DeHaan Fine Arts Center (CDFAC): I recently spent an evening listening to the archived audio recording of his presentation to refresh my memory of some of the details of an event that in many respects has remained very vivid in my mind.
Listening to the archival recording made me wish (yet again) that more people had been present to encounter this remarkable artist from New Haven, Conn. Even so, I am by no means the only person who was deeply affected by Kaphar's presentations the afternoon and evening of Nov. 7, 2019. We are fortunate that several YouTube videos have been produced about Kaphar's life and work, including some by institutions that have hosted exhibitions of his art. As a result, those who were not able to attend his UIndy presentation are still able to experience his remarkable body of work.
The purpose of this essay is to highlight Titus Kaphar's moral witness about how we can "make space" for Black history. I will share some of my own perceptions about his work, but the links I have included here provide access to longer videos and interviews that are worth taking five to 10 minutes to view. At the end of this reflection, I will summarize the most salient features of Kaphar's witness for our university.
Even before coming to our campus, Titus Kaphar's work had been the subject of rich conversations about the ways that he and other contemporary artists pull back the canvas of familiar works of art to reveal personage and/or events that have been hidden from view.
See the 2019 National Portrait Gallery exhibit, "Unseen Narratives in Historic Portraiture"
Some folks at UIndy had already heard about his creative re-working of the historical portraiture of Thomas Jefferson in "Behind the Myth of Benevolence." That particular mixed-media piece brings into view the traditionally invisible figure of Sally Hemings, one of Thomas Jefferson's slaves, from behind the canvas of one of the formal portraits of Jefferson, the Founding Father who was thethird president of the United States and the principal author of the country's Declaration of Independence.
I was intrigued to discover that Kaphar's work on Hemings and Jefferson – which he acknowledges is not actually a portrait of either Sally Hemings or Thomas Jefferson in the formal sense and yet provides a new way of depicting both subjects – has its origins in an ongoing conversation Kaphar had with a school teacher, who was 80 years old when Kaphar knew her.
"We got onto the topic of history," Kephar said. "When we got to Thomas Jefferson, she said [that Jefferson was different because] he was 'a benevolent slaveowner.'" (quote from Nov. 7, 2019).
Kaphar was startled by that statement. He asked himself (and her): "What do those words mean?"
The visual juxtaposition of Thomas Jefferson and Sally Hemmings in "Behind the Myth of Benevolence" is the result of extended reflection on that conversation. As he said repeatedly during his UIndy visit, "I am trying to figure this stuff out for myself."
Kaphar talked about how his own formal education left him without the necessary instruction and mentoring to develop as an artist. He told a story about how one of his instructors elected to "skip" the 12-page section of a textbook that focused on representation of Black people in art and the art by Africans and African Americans. This is true of how he learned to paint. It is also true of what he came to know about the representation of African Americans in art, as well as the many artistic exemplars who identified as Black across the centuries.
And as he has been invited to accept commissions for works of art that address conflicted histories, he has had to drink deeply at the wells of Black history. Self-discovery and autodidacticism (learning without the aid of a teacher or formal education) are marks of this remarkable social-practice artist who is unconventional in the ways he engages cultural traditions in which "high art" and localized history share juxtaposition with one another.
As Kaphar observed in his UIndy presentation, the culture clashes over monuments (in Richmond, Va., and elsewhere) are sites of real struggle, and at several points, he has found himself living and working in the intersection of cultural conservation and progressive activism. Yet he is not a pessimist. As he stated that evening at UIndy, "It doesn't have to be binary.…We don't have to forget where we have come from." He understands that it is difficult to engage Confederate monuments in public squares: "We struggle with having two conversations at the same time — the dichotomy that we experience." At the same time, he challenges his audiences to be honest with themselves about historical monuments: "We don't just take these things. We commission artists to make the sculpture that speaks about where we want to be in the future."
I have chosen to call attention to three of his artistic creations as the primary way of registering the power of the witness he offers to the UIndy community of learning, particularly given our academic mission.
My favorite work by Titus Kaphar is "The Cost of Removal," a work I saw in person in spring 2019. I was visiting family in Arkansas, where it is displayed at Crystal Bridges Museum of American Art. The title of Kaphar's painting references President Andrew Jackson's executive order that indigenous peoples of Georgia and North Carolina must be removed, despite legal rulings and Supreme Court judgments against him.
I am very familiar with paintings of General Jackson on his white steed. I first saw such images during childhood visits to American historical sites, including Jackson's home, The Hermitage, located outside of Nashville, Tenn. I found this remarkable work of art to be quite arresting, particularly because I have lived in multiple places during my lifetime that were named in Jackson's honor: Jackson Street, Jacksonville, etc.*
Across my lifetime, I have known many people – including some in my own extended family — who were named for Jackson. In many places where I grew up in Arkansas, Andrew Jackson was remembered well into the first half of the 20th century as a populist advocate for "the common man," against the threats of moneyed elites.
This kind of democratic (small d) sensibility often combined with the more overtly white supremacist myth of "the Lost Cause" – the view that the South may have lost the war, but the Southern way of life still was morally superior. In junior high school, I attended a school in Jacksonville, Ark., named Southside, where the school mascot was "the Saints" and the songs "Dixie" and "When the Saints Go Marching In" were commonplace. Across town, the other junior high school was named "Northside," with a mascot – Demons — that illustrated the dualism.
I mention this because people who are not familiar with the layered mythos out of which Jackson's persona shines might underestimate the ways in which Kaphar's artistic inversion powerfully shifts the artistic language from the splendor of military dress (epaulets, medals, sword in a scabbard, on steed) to the words that were used to authorize genocide.
As the Crystal Bridges curator's video explains, in creating "The Cost of Removal," Kaphar attached large pieces of paper taken from a copy of the presidential order that authorized the removal of the Creek and Cherokee people, as well as other tribal groupings. The strips cover the lower part of President Jackson's face and all of his torso. The result is dramatic, and the effect on me was breathtaking. The depiction of the warrior president is still there, but what is no longer hidden are the deadly effects of Jackson's directives in the 1830s and beyond. This particular technique is one of the ways that Kaphar adds an additional layer to such cultural icons, thereby inviting viewers to reengage our memories of the past in more imaginative ways.
Arguably, all of Kaphar's work is highly relevant to our campus, but ever since I read Steve Inskeep's book Jacksonland (2015) several years ago, I have been unable to ignore the fact that Jacksonian myths and values are written into the fabric of communities where we live and work. Inskeep provides a detailed analysis of the effects of President Jackson's actions in removing the indigenous people from Georgia and North Carolina (and beyond) and argues persuasively that the effects continue to shape American communities, including his own home in Indiana, a state that oddly bears the name of the peoples who were removed in the 1830s.
Indeed, "Indiana" has the strange distinction of being one of the states that is most inscribed by traces of indigenous peoples. My wife and I live eight miles from "the 10 o'clock line" that once marked the northern boundary of the state of Indiana. It is tempting to act as if such markers pertain to a lost past, but Kaphar's work has challenged me to think of indigenous populations as communities to be engaged in the present, despite their removal in the past.
The evening that Kaphar spoke in Ruth Lilly Performance Hall of CDFAC, he talked about his family, particularly his grandmother, who helped to raise him, and his father, Jerome, who left the family when Kaphar was quite young. He acknowledged that for many years it had been difficult for him to engage his father (who was in prison for many years) and even when he did come to know him, he had difficulty comprehending his father's life and struggles. After a particularly fraught encounter, Kaphar started to register his father's life "in a completely different context," beginning with the fact that Jerome was from "a small town in Michigan where the jobs disappeared" (11/7/19). His father's life story had been written over by the social dynamics of deindustrialization, and like many others before and after him, Jerome's life has been defined by mass incarceration.
"When I look at my work, I see these erasures, attention to absences," Kaphar said. He explores what he described as "these national family stories we don't talk about that much." The title he gave to his exploration of the criminal justice system through Jerome is "My Loss." Indeed, he spoke as if the struggle with his relationship with his father remains a challenge for Kaphar, who has been a parent now for more than a decade. It is his family's story, but at the same time, it is also the story of a prominent pattern in American culture that Michelle Alexander described in her 2010 book The New Jim Crow.
"The Jerome Project (My Loss)" is the name of a series that Kaphar began in 2011. The exhibit catalog, available from Jack Shainman Gallery of the Brooklyn Museum, explains how Kaphar conceived this highly personal engagement with the lives of incarcerated men. "Searching online databases for his father's prison records, he found dozens of individuals listed who shared his father's first name, Jerome, as well as his last name. Struck by this discovery, he created portraits of each Jerome, based on their mug shots. The panels draw on the visual tradition of Byzantine icons, specifically depictions of Saint Jerome, patron saint of librarians, scholars, and translators." What Kaphar has done is not simply captivating because of the way he has re-worked cultural iconography, but also because he has created something vivid and highly personal.
As he has become aware of the effects of his work on the lives of others, he has acted out of a profound sense of solidarity. As the exhibit catalog for "My Loss" explains, "The panels were painted on flat, gold-leaf backgrounds and then partially submerged in tar. Initially, the level of the tar reflected the percentage of each lifetime spent in prison. But Kaphar abandoned that formula in acknowledgment of incarceration's lingering aftereffects, such as difficulty securing employment and loss of voting rights."
As you may recall, the year before Titus Kaphar's visit to UIndy (2018) had been a time of heightened struggle with social justice concerns among UIndy students, including activists associated with the Black Lives Matter movement. Our campus certainly was not immune to the nation's struggles, and it might have been inevitable that Kaphar's visit would become one of the occasions when we – individually and collectively – were caught off guard by the effect of his words, his art, and what I have since come to think of as his moral witness through art.
One of UIndy's students, Tatyana Gray '21, was given the responsibility of introducing him. She was both moved by his example and inspired by the insights that he brought to our campus. She spoke with heartfelt appreciation, and I thought, in a moving way, about the importance of his work for students like her, who aspire to bring the struggle for social justice together with their passion for artistic expression, technical innovation, and community engagement.
In his after-dinner remarks in Stierwalt House earlier in the evening, Kaphar had called out this student and encouraged her aspirations. This was just one of the ways in which Kaphar's engagements during his half-day visit to the UIndy campus were remarkably personal. In my experience, this is not typical of most visiting speakers, some of whom enjoy the trappings of celebrity. But then, Kaphar doesn't enjoy the cult of celebrity. He doesn't thrive in the spotlight. He doesn't like talking about the ways his art intersects with his life experience. And yet he has a remarkable resolve to continue to do such events if it helps people engage with the kinds of perplexing challenges that we face in the 21st century.
He was quite candid — during the dinner as well as on stage — about the fraught nature of doing these kinds of public presentations. On the occasion that he visited our campus, he was not afraid to state that while he is grateful that he is well-compensated for presentations like the one he made at UIndy, he would much prefer not to have to talk about the kind of social trauma in which he has found himself immersed through much of his life.
When it came time for questions and answers with the audience, someone asked him a question that pertained to his family. At that point, he sighed and shook his head, saying, "I'm in this really weird situation. … My grandmother passed away this past week." (He apologized to the audience and indicated that he was going to digress for a bit.) "I got a phone call from my mother. Your grandmother has had a heart attack. [So] I fly to Michigan. I am concerned [about whether she is going to survive]…." (11/7/19).
When he has a chance to talk with his grandmother, she tells him, "These doctors aren't listening to me." He investigates and determines she is right. "They are not listening to her. … The doctor pretends to listen." She is having nosebleeds, which scares her, and she is very afraid. He describes what happened next in a rather sad, detached way. "They take her off the medication for a minute. Then they put her back on the medication because her health care [plan] doesn't cover the other medication." He concludes: "So she dies in exactly the way she feared she would die, with blood draining down the back of her throat, while she still has the telephone in her hand." (11/7/19)
Kaphar stopped at that point, and briefly addressed the audience again on the larger topic of making space for Black history: "We have a lot of problems to solve here. This is not simply a conversation about race. It is not simply a conversation about art. We have a lot of problems to solve here. That is why I [will] go on putting all the energy I have in this conversation. But I think … maybe if somebody gets it, then I'll keep doing it." He sighs. "It is all connected. This is all personal. I hope this [helps and] inspires you." (11/7/19)
I was seated in the balcony of the RLPH that evening, as he described how his grandmother died due to the unequal distribution of health care in the United States. From my vantage point, there was nothing melodramatic about the way he talked about what had happened to his grandmother. (Deeply sad, yes. Angry, absolutely. Even heartbroken.) However, I don't think he once modulated the tone of his words to achieve dramatic effect. He simply offered an honest lament to what he and his family experienced. What was striking, I remember, was the matter-of-fact tone in which he spoke the words: "We have a lot of problems to solve here." Indeed, I thought. There are.
Concluding Reflections
Due to the COVID-19 pandemic, the University Series Planning Committee was not able to build on the conversation we had originally planned as part of the series — "placemaking and the arts." During the 2020-21 academic year, a group of UIndy faculty led by Kevin McKelvey explored some of the questions surrounding this topic. That was a very productive exploration. Even so, I feel there is an unfinished agenda.
The faculty, staff, and students at UIndy might also have engaged some of the challenges that Titus Kaphar's witness posed for us, particularly with respect to the first and last words of the statement: "We have a lot of problems to solve here." The referents of the words "we" and "here" are not mysterious. Kaphar clearly included his audience — as fellow citizens — in his use of the first-person plural pronoun. Similarly, the location of "here" was both local and national. I don't recall that Kaphar mentioned the name of the city in Michigan where his grandmother died, but we know that there is also a discrepancy in healthcare outcomes in our namesake city. Indeed, not long after Kaphar's visit, a Black woman in Indianapolis died due to inadequate health care. The fact that she was also a physician simply compounded the problem.
Not to be missed is the fact that Titus Kaphar also has pioneered a new model for arts education that addresses some of the flaws in his own educational experience "NXTHVN is a new, national arts model that empowers artists and curators through education and access to a vibrant ecosystem. Supported by intergenerational mentorship, cross-sector collaboration, and local engagement, NXTHVN accelerates the careers of the next generation and fosters retention of professional art talent while helping catalyze New Haven [Connecticut] into a world-class, sustainable arts community." To date, we have not been able to have discussions at UIndy about ways that Titus Kaphar's "Next Haven" approach offers a model for us. But we still might do so!
At the end of the day, "making space for Black history" involves cultivating rich imaginations for what is possible for us to do where we are. Titus Kaphar's art calls forth the kind of response in which we discover things about ourselves and the world around us that are disconcerting. To be honest, it is very uncomfortable to realize the connections that exist between a university community and incarceration. We are more likely to pay attention to those connections if we take seriously that "undocumented immigrants" exist in the overlapping communities.
Titus Kaphar's witness is about pulling back the canvas to see ourselves and others in the frame of the portrait. It is about confronting realities that we wish we could avoid because they make us uncomfortably aware of threats to the common good. Finally, Kaphar's witness is about responding to these challenges by exhibiting the kind of solidarity with others that doesn't attempt to hide from the all-too-real-problems.
I hear Titus Kaphar's laconic lament, "We have a lot of problems to solve here," as a stark statement of fact as well as a straightforward call to solidarity. We can acknowledge that vexing problems exist and engage them quite simply as part of who we are, or we can foolishly try to disassociate ourselves from them. "Making space" for Black history entails rethinking how we position ourselves in relation to problems. To make it personal is to "own" our participation in the problems and to see the connections that link our lives to people we tend not to see around us.
The topic of "making space for Black history" is by no means new on this campus, but we have much to learn. Going forward, one of our challenges will be to foster the kind of competency that can sustain collegial explorations, as our campus moves forward with the Juneteenth declaration objectives announced in June 2020.
I will be disseminating four more issues of "Mission Matters" in the next few weeks. Each will feature the witness of a different pattern of making space for Black history. I will invite you to think with me about the lives and work of alumni, faculty and staff going back to the 1940s and 1950s, share with you a recent discovery about the anti-slavery origins of our university, and profile a contemporary individual whom I have found to be a source of inspiration for our current efforts to make space for Black history.
Thanks for taking the time to think with me. Remember, UIndy's Mission Matters!
* Consider this lesser-known example: The first name of Nashville, Ind., in Brown County, was Jacksonburg, and the name was changed to Nashville in part because that was Jackson's hometown. The catalogue of street names in Southern Indiana towns is heavily populated with the Jackson surname, the vast majority of which were to commemorate the military hero and President.