University Announces 2022 Faculty & Staff Achievement Award Winners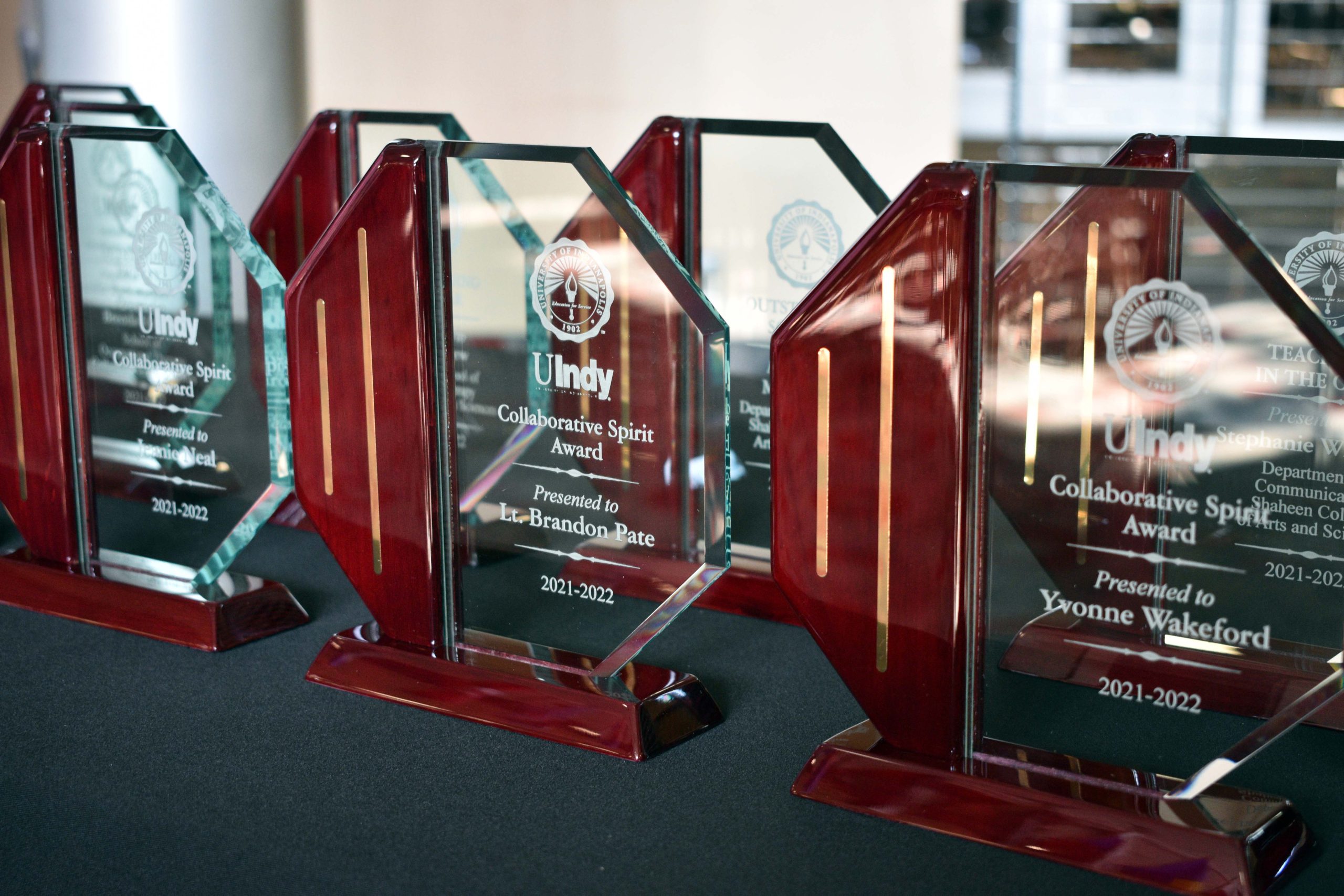 Today at the Faculty-Staff Institute, University leadership announced the recipients of this year's Faculty and Staff Achievement Awards. The following faculty and staff were honored for their achievements and successes from the 2021-22 academic year:
The Peters Good Neighbor Award
The Peters Good Neighbor Award honors Hobart and Ella Peters for the qualities of neighborliness that they exemplified throughout their lives. The award is to be presented to the person on our campus who best exhibits by word, deed, and attitude the characteristics of neighborliness.
Jeffrey Barnes, Director of University Events, Event Services
Barnes' nominator said, "Jeffrey extends the hospitality of his everyday work to the campus community through heartfelt conversation and care for all members of the community. He has been a special encouragement and welcome for LGBTQ+ students throughout his long history with the university."
The Enhancing Student Experience Award
The Enhancing the Student Experience Award is presented to an individual who has demonstrated outstanding achievement in inspiring students through innovative practice fueled by enthusiasm.
Mary Craft, Logistics Coordinator, Student Affairs
Mary Craft puts student well-being and satisfaction above all else. Over the past year, Craft helped to lead a system-wide upgrade of the UIndy housing platform to ensure it offered the easiest and best experience possible.
Craft's nominator said, "Mary Craft has worked at UIndy for many years in a variety of roles, but the one thing that has remained consistent in her work is the dedication she has to serving students."
The Unsung Hero Award
The Unsung Hero Award is presented to a person who is dedicated not only to executing their job, but also to helping others and filling in where needed, performing tasks at a quality level, and actively solving problems — all without fanfare.
Amy Marack, Business Manager, Center for Aging and Community (CAC)
Amy Marack has made major contributions to how CAC and other University departments manage contracts, budgets and the policies and practices related to grant and contract work. Marack has also stepped up to help with many University projects and is now known as a "go-to" staff member for questions related to accounting and grants.
Marack's nominator said, "Amy is the epitome of an Unsung Hero. Her work is invisible to most people on campus, yet critical to many successes and to maintaining the excellent reputation of the University with external partners."
The Inclusive Excellence Award
The Inclusive Excellence Award is given to UIndy staff members who make noteworthy contributions that help advance inclusive excellence at the university.
Jennifer Rademacher, Administrative Assistant, BUILD
When a supporter of BUILD passed away last year, Jennifer Rademacher went out of her way to support and provide for BUILD students. She not only addressed the daily needs of the BUILD students, but also ensured that they were able to attend the memorial service, even driving students who lacked transportation herself.
Her nominator said, "Over the course of one's career an individual will experience unforeseen situations. When an employee is faced with these challenges he/she can decide to quit, to continue doing their assigned job responsibilities, or take on the additional responsibilities needed to ensure that an office continues to meet the needs of the students… I believe Jennifer Rademacher has gone 'above and beyond' the responsibilities of her position."
The Spirit of UIndy Award
The Spirit of UIndy Award recognizes someone who goes beyond taking pride in the university, who encompasses what it means to truly live in the example of UIndy's mission.
Hailey Padgett-Riley, Assistant Chief of Police, University Police Department
Hailey Padgett-Riley's work with the University pulls her in many directions. She supports campus traditions, assists with University event planning, supports the establishment of new programs, such as Grady's Safety Walk, and more.
Padgett-Riley's nominator said, "A true Greyhound is not only someone who has pride in our university, but someone who is dedicated to its well-being, advancement, and our community. [Hailey] works to achieve all of these things through her daily work and sets a shining example for all Greyhounds."
The Collaborative Spirit Award
The Collaborative Spirit Award is presented to a team or department that has demonstrated successful collaboration and true teamwork.
FEMA RPA Team: Jeanie Neal, Director, Grants & Sponsored Programs; Lt. Brandon Pate, Lieutenant, University Police Department; and Yvonne Wakeford, Director, Office of Human Research Protections
During the COVID-19 pandemic, the University explored options to fund and support its response to COVID. During this review, the University identified funding through the Federal Emergency Management Agency (FEMA) that could offset our costs in managing COVID on campus. Jeanie Neal, Brandon Pate and Yvonne Wakeford banded together to gather information, develop and submit the FEMA emergency relief application, ultimately resulting in the University receiving $70,000 in relief funds.
The FEMA RPA team's nominator said, "[All three team members] each have great work experience that related to the FEMA application. However, one of them alone could not have accomplished the task of gathering information and submitting the University's application for emergency relief…Their collaborative spirit was seen in their work together, using each of their own skill sets to create and submit a strong and complete application to FEMA. Each one shared in the responsibility of this project, took their roles seriously and supported each other when issues arose and obstacles were placed in front of them."
The Education for Service Award
The Education for Service Award recognizes faculty members who best represent the UIndy motto of "Education for Service" in teaching or scholarly work.
Dr. Karen Hirsch, Assistant Professor, Faith Community Nurse, School of Nursing
Dr. Hirsch has been a UIndy faculty member for more than twenty years. During this time, she grew the community health course within the School of Nursing into a positive experience for students, helping them to understand that healthcare extends far beyond the walls of a hospital.
Dr. Hirsch's nominator said, "Dr. Hirsch is genuinely compassionate toward students in her desire to see them succeed… Our students are comfortable talking with her about challenges they may be facing and I can tell you that she goes above and beyond to help them remain in school by working with them in a professional manner. She cares deeply for all of her students and she provides a great service to them, which is an ultimate WIN for our university."
The Connecting Expertise With Action Award
The Connecting Expertise with Action Award recognizes a faculty member or team of faculty members who has successfully pursued work across disciplinary lines in the areas of scholarship, program development, curricula, service, or coursework.
Dr. Sarah Denney, Assistant Professor, School of Education
In her first year as a UIndy faculty member, Dr. Denney took on the tremendous task of leading diversity, equity and inclusion efforts in the School of Education. Her leadership has led to the creation of lunch and learn seminars, where UIndy faculty can gather to learn about a wide range of topics, such as teaching learners from diverse backgrounds and understanding cultural differences.
Dr. Denney's nominator said, "[Dr. Denney] is a talented faculty member entrenched in equity and inclusion… She is a bright spot in our unit, and we are fortunate to have her at UIndy."
The Emerging Scholar Award
The Emerging Scholar Award recognizes faculty members who are new to higher education and who have demonstrated significant progress toward implementation of a successful scholarly agenda. This year, two faculty members were honored with this award.
Dr. Md Munirul "Sunny" Haque, Assistant Professor, R.B. Annis School of Engineering
Dr. Haque joined the UIndy family in 2019, and since then, has published seven journal articles and five conference papers. Additionally, he has built solid research profiles in multiple areas, including blending computer science with healthcare and international healthcare.
Dr. Haque's nominator described him as "a consistently top-rated teacher, an amiable and collaborative colleague, and a devoted mentor to his students."
Dr. Allison Snyder, Assistant Professor of Data Analytics, School of Business
In addition to her scholarship within the School of Business, Dr. Snyder also assembled a team of scholars from across campus to investigate empathy in the college classroom during the COVID-19 pandemic and beyond. This is just one example of Dr. Snyder's collaborative scholarly work during her short time on UIndy's faculty.
Dr. Snyder's nominator said, "[Dr. Snyder] has shown that she has an active mind and has a multitude of talents that she has utilized in projects with students as well as faculty members, from analytics to economics to sociology… She has proven to be an excellent colleague and has been a major contributor to campus life…"
The Outstanding Scholar Award
The Outstanding Scholar Award recognizes faculty members whose scholarly work has received substantial external recognition. This year, two faculty members were selected to receive this award.
Dr. Jim Bellew, Professor, Krannert School of Physical Therapy
Dr. Bellew's nominator described him as "a consistently outstanding scholar" since he joined the UIndy faculty in 2007.
In the past year alone, Dr. Bellew served as a co-editor of Michlovitz's Modalities for
Therapeutic Intervention, in which he served as the primary or co-author for six different chapters. He also co-authored two peer-reviewed publications with Dr. Trent Cayot and nine UIndy Doctorate of Physical Therapy students.
Dr. Marc Milne, Associate Professor, Department of Biology
Dr. Milne has quickly become one of the top renowned arachnologists – expert in the study of spiders – in the state of Indiana. Recently, Dr. Milne was invited to collaborate on a new research project that seeks to catalog all records of cave spiders around the world. This project and Dr. Milne's involvement has resulted in the identification of over a thousand spiders, 19 of which are likely new to science.
Dr. Milne's nominator said, "Probably one of Marc's strongest qualities as a teacher is his ability to transcend his teaching from the classroom to the real world." Since joining the UIndy faculty in 2014, Dr. Milne has authored approximately 25 peer-reviewed articles, many of which include UIndy students as co-authors.
The Teaching in the Core Award
The Teaching in the Core Award recognizes a faculty member who has demonstrated excellence in teaching core coursework for undergraduate students.
Dr. Stephanie Wideman, Assistant Professor, Director of Forensics Speech and Debate Program, Basic Course Director, Department of Communication
Dr. Wideman serves as the General Course Director for the UIndy Department of Communication. During the last academic year, she managed over 16 sections of COMM 100: Public Speaking, in which she not only mentored the adjunct faculty teaching the sections, but also emphasizes the importance of the course in students' professional and personal development.
Dr. Wideman's nominator noted, "One student encapsulated it best by stating that 'taking this class contributed a lot to my learning not only how to give speeches in the class, but how to use a simple structure to give speeches or even presentations in other classes without feeling nervous. Dr. Wideman also gives very good feedback, so each time before a new speech you know exactly what to work on."
The Outstanding Faculty Award
The Outstanding Faculty Award recognizes a faculty member who has demonstrated exemplary integration of teaching, scholarship and service and uses that expertise to contribute to the growth of others.
Dr. Brenda Howard, Associate Professor, School of Occupational Therapy

In addition to serving as a UIndy faculty member, Dr. Howard is also actively involved with the American Occupational Therapy Association (AOTA), specifically the AOTA Ethics Commission. Her passion for ethics and ethical practice has shaped her teaching, scholarship and service within the School of Occupational Therapy. Through her teaching, Dr. Howard lays important foundations for students with theory and professionalism, emphasizing their future work as healthcare professionals.
Dr. Howard's nominator went on to explain that, "Clearly, Dr. Howard is positively impacting her students, fellow faculty and professional colleagues with her contributions across teaching, scholarship and service. Perhaps most importantly, is the positive attitude with which she does this work."
The Institutional Leadership Award
The Institutional Leadership Award recognizes a faculty member who demonstrates exceptional leadership by advancing a program, committee, task force or other group to achieve goals of importance to UIndy.
Dr. Katie Kivisto, Associate Professor, Interim Associate Program Director, College of Applied Behavioral Sciences
Dr. Kivisto stepped into the role of Interim Co-Program Director for the Clinical Psychology program in August 2021 and has since worked tirelessly to move the program through the accreditation process, facilitate a robust curriculum review and ensure other essential daily tasks are completed.
Dr. Kivisto's nominator described her as, "both the glue and the accelerator for a program that has experienced significant change over the last year."
Congratulations to all of this year's Faculty and Staff Achievement Award winners!