Five Reasons to Read Frances E.W. Harper's Iola Leroy with Communiversity 2022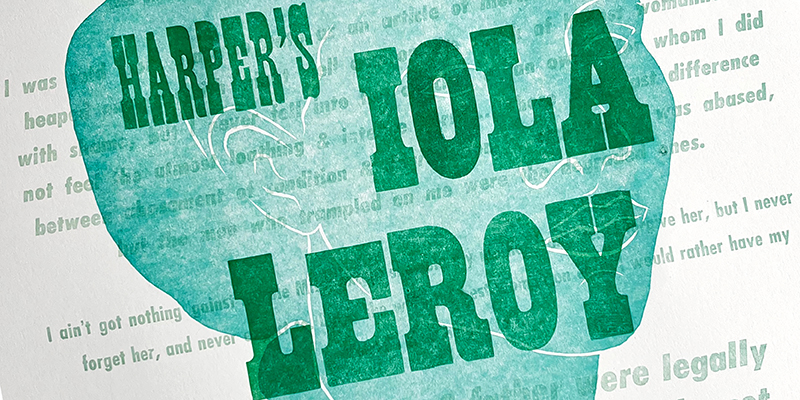 Communiversity — UIndy's FREE, online, book-club-style course that is open to the public — returns to UIndy this fall to explore one of the first novels ever to be published by a Black female author: Iola Leroy by Frances E.W. Harper.
Why should you register for Communiversity this year?
Because it's the 130th anniversary of the publication of Iola Leroy. 
Written in 1892, Iola Leroy, helped to pave the way for Black female authors everywhere, including Ida B. Wells and Zora Neale Hurston, and continues to inspire today. By joining Communiversity this fall and exploring Iola Leroy amongst your fellow readers, you will help keep that inspiration flowing for even more years to come.
Because you want to learn more about Black history, the power of a woman's voice, racism in the 20th century, and other critical social issues.
Iola Leroy follows its titular character, a young biracial woman living in the free states of the Union in the 19th century, who, upon the discovery that she is in fact part Black, is sold into slavery. As you may expect, this journey is rich in discussion of social issues that remain prevalent today, such as racism, identity, community, women's rights and more. 
Because you made that new year's resolution to read more, and you're not quite there yet. 
Reading is similar to exercise; sometimes it's easier to do when someone is holding you accountable. Your fellow classmates will certainly motivate you to keep up with the weekly readings and thereby finish one more book this year. 
Because you want to join a book club, but don't have time to meet in-person. 
Between work, school and everyday life, you may not have time (or energy) to drive across town to join the local book club. Thankfully, Communiversity can bring the book club to you. Communiversity is completely online, allowing you to discuss Iola Leroy with other interested readers from the comfort of your own home.
Because you can enjoy all of the above and more for free.
Communiversity is free and open to the public. Participants are not charged tuition and can even access a copy of Iola Leroy for free throughout the course, courtesy of Project Gutenberg. 
Did we convince you? Learn more about Communiversity 2022 and register here.