2022 Whirling Prize Winner Announced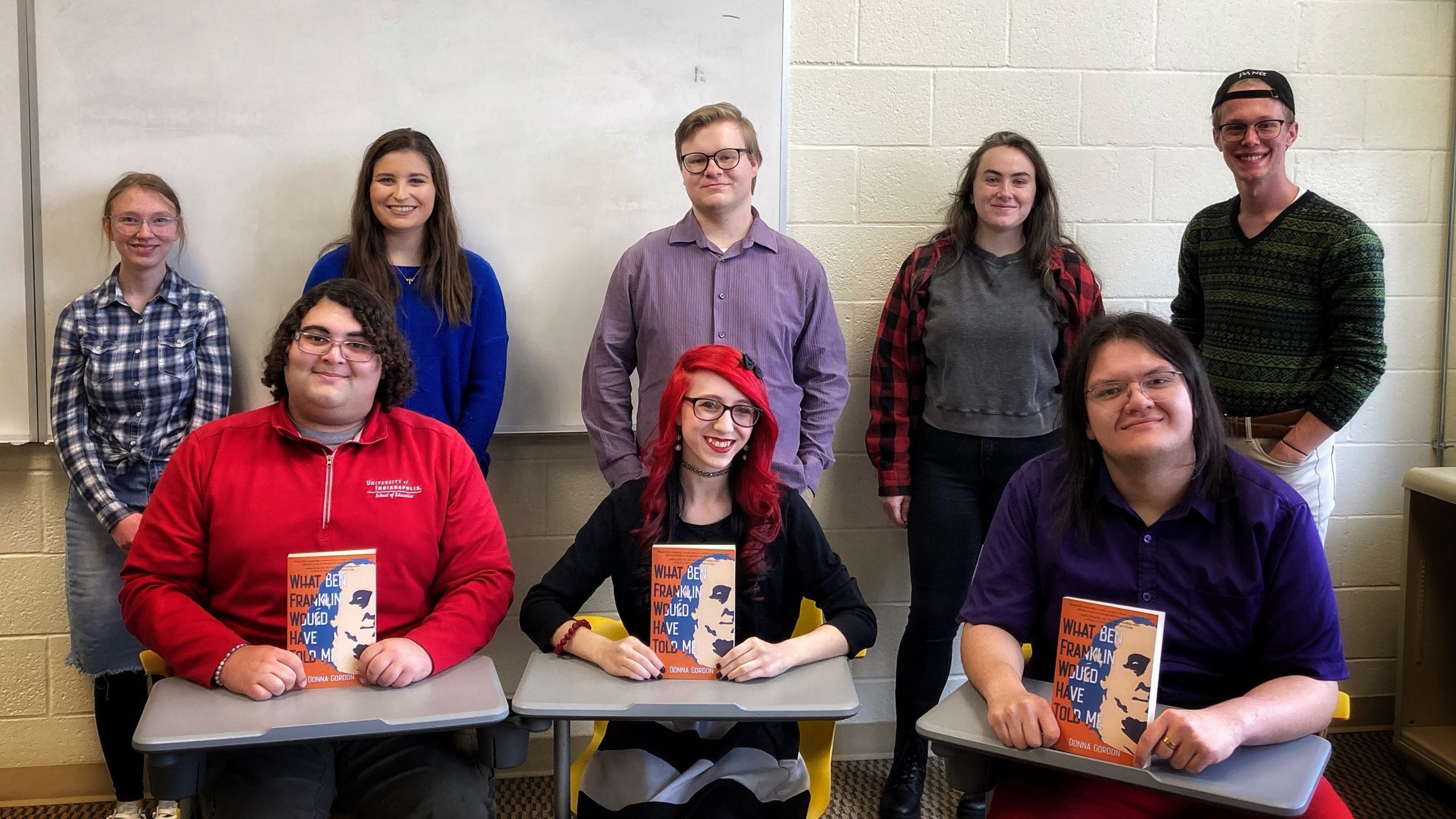 INDIANAPOLIS – Etchings Press, the University of Indianapolis student-run publisher, has announced What Ben Franklin Would Have Told Me by Donna Gordon as the 2022 Whirling Prize winner. This year's Whirling Prize was centered on the theme, "Young Adults Exploring the Mysterious."
Etchings Press collected submissions from authors of various backgrounds and ages from across the country. UIndy students enrolled in ENGL 479: Etchings Press reviewed the collected submissions and selected a winner based on criteria developed by the student judges at the beginning of the course.
"Gordon is able to use the voice of the character to explore life and death and the mystery that surrounds them," said Ethan Thurston '23 (Creative Writing), a student judge. "She effectively takes a young character and dives into the serious topics that occupy our minds as young adults and later in life. This is one in a way that is so natural at times you may forget how young the main character, Lee, truly is. Overall, Gordon's ability to bring characters to life so that they can tell their stories is what made Donna Gordon's novel deserving of the Whirling Prize."
"What Ben Franklin Would Have Told Me is a story about life, death, and coming to terms with things, but it is mostly a story about people and their greed and how that greed can influence the lives of people around them–experienced through the intent behind the main characters', Lee and Tomás, actions and attitudes with each other," said Alex Phillips-Hedge '24 (Professional Writing), another student judge. "I truly think that this novel has the potential to become a part of the western educational canon."
"Reading literature as a judge requires students to find balance between what they've learned about excellent writing and what they are personally drawn to, as well as to find compromise among judges' diverse points of view," said Prof. Liz Whiteacre, Advisor to Etchings Press and Associate Professor of English. "The 2022 team did an outstanding job engaging with the submissions."
Gordon will be awarded $500 and 10 copies of a broadside designed and produced by a UIndy Art & Design major, and will be invited to participate in an episode of UIndy's Potluck Podcast, a literary podcast with the UIndy student judges.
Etchings Press also recognized How to Pack for the End of the World by Michelle Falkoff and I Play One on TV by Alan Orloff as finalists in prose for this year's Whirling Press.
Etchings is currently accepting submissions for the 2023 Whirling Prize. Student judges welcome recently published books of prose and poetry in response to the theme of mythology published since January 2021. The deadline for submission is 11:55 p.m. EST, Friday Sept. 1, 2023. 
For additional submission details, please visit https://etchings.uindy.edu/whirling-prize/.
###
About Donna Gordon
Donna Gordon is a Cambridge, Massachusetts, resident. She graduated from Brown, was a Stegner Fellow at Stanford, a PEN Discovery, and a Ploughshares Discovery. She was a 2017 Tennessee Williams Scholar at the Sewanee Writers Conference, and a fellow at the Vermont Studio Center in 2017 and 2018. She received the 2018 New Letters Publication Award for What Ben Franklin Would Have Told Me, which received a starred Kirkus review and was described as, "A soulful journey that offers surprises and unforeseen victories." Her book has been named by the Independent Book Review as one of the top 45 they're excited about for 2022. Nina McLaughlin wrote in a Boston Globe review: "Gordon's prose is lively; it rushes along with verve, humor, and heart…[She has] achieved the rare thing, a stirring, poignant story of death and love and a page-turning adventure."
Gordon is also a visual artist, with a focus on painting and printmaking. Her work with former political prisoners culminated in "Putting Faces on the Unimaginable: Portraits and Interviews with Former Prisoners of Conscience," exhibited at Harvard's Fogg Museum.