A Guide to Understanding Financial Aid at UIndy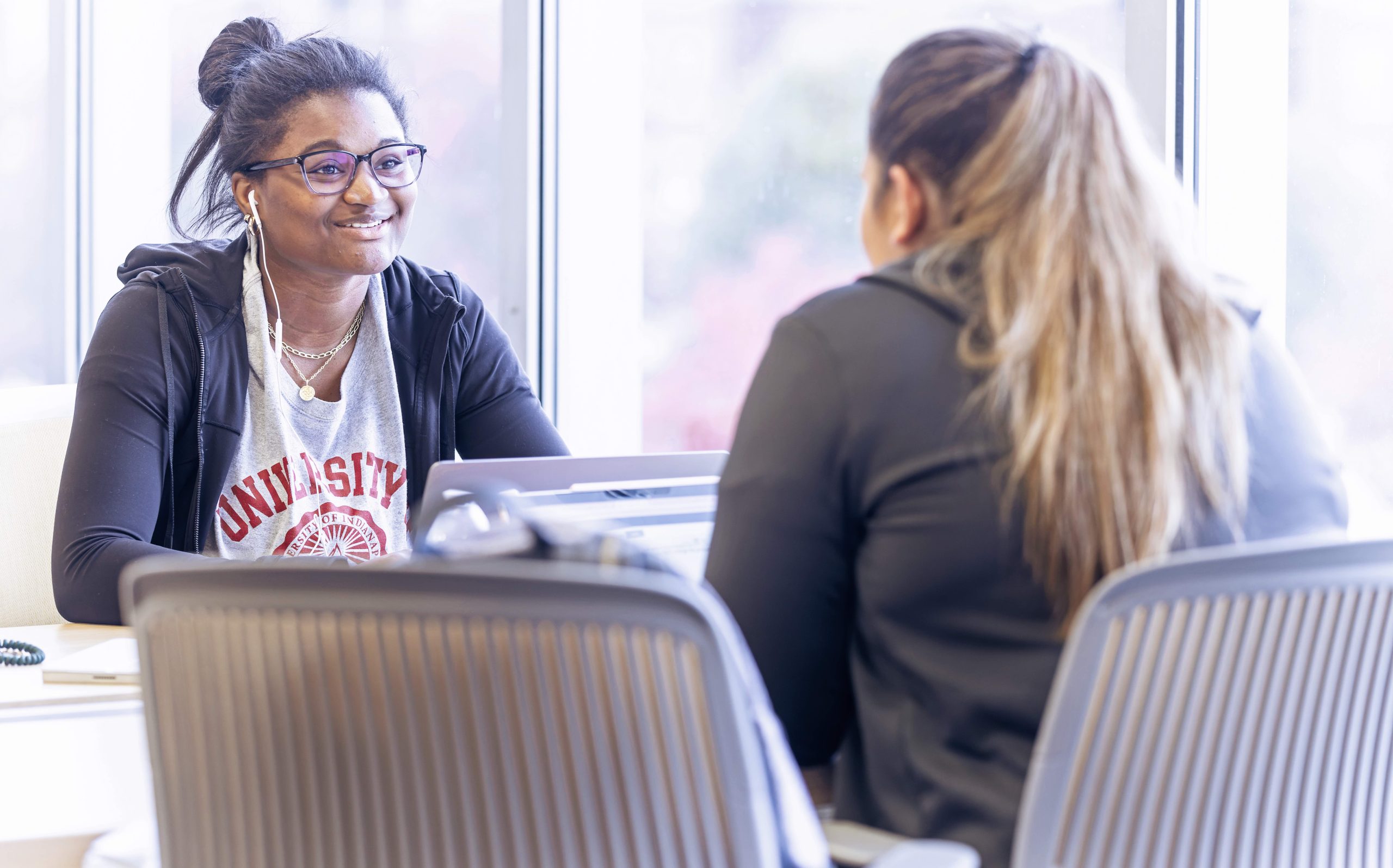 For most incoming students, the financial aid process can be confusing and stressful. With the help of Katie Ashcraft, Associate Vice President of Admissions, and Nathan Lohr, Director of Financial Aid, we've put together a helpful guide of frequently asked questions to help you with the financial aid process.
How do I apply for financial aid?
To apply for financial aid, complete the Free Application for Federal Student Aid (FAFSA). Your FAFSA results will allow UIndy to review your eligibility for federal, state, and university financial aid.
Does financial aid have a separate application?
No. At UIndy, all that you need to be considered for financial aid is to be admitted to the university and to file your FAFSA.
Is there a deadline?
We encourage you to complete your FAFSA as soon as possible. Indiana residents must file by April 15 to be eligible for state aid, like the Frank O'Bannon Grant or the 21st Century Scholarship.
Do I have to pay to file the FAFSA?
The FAFSA is completely free to file.
What types of financial aid are available?
At UIndy, students may be eligible to receive gift aid, like grants and scholarships, or self-help aid, like student loans or student employment. Financial aid can come from several different places, including the federal and state governments, the university, or outside sources, like community organizations or local businesses.
What's an EFC?
EFC stands for Expected Family Contribution, and it's what we use to see how much federal student financial aid you're eligible for.
How do I send UIndy my FAFSA information?
File your FAFSA using UIndy's school code of 001804 to send us your official results. If you already completed a FAFSA without including UIndy's school code, you can log back in and add it.
I was born in the US but my parents are undocumented. Can I still complete the FAFSA?
Yes. Your parents' citizenship status doesn't affect your eligibility for financial aid. You don't even have to provide your parents' citizenship status on the FAFSA.
Do families need to complete a separate FAFSA for each child?
Yes. Each child going to college needs to file a separate FAFSA.
My parents are divorced, whose information do I use on the FAFSA?
If your parents are divorced or separated and don't live together, answer the questions about the parent you lived with more during the past twelve months. If the amount with both parents is the same, whoever gave you more financial support is the information you should use.
Do I have to include parent information on the FAFSA?
In most cases, yes. Only students that meet certain conditions, like having dependents of their own, being married, or being over the age of 24 do not have to provide parent information. Parent information may be required even if you are living on your own or if your parents don't claim you on their taxes.
What do I do if I can't get my parents' tax information?
We understand that in some cases, parents refuse to provide their information on the student's FAFSA. If that is the case, the FAFSA will allow you to mark an option that says "I am unable to provide information about my parent(s)." You will not receive an EFC, and you should contact the Office of Financial Aid.
I probably won't qualify for any financial aid. Should I still file the FAFSA?
Yes. Filing your FAFSA allows us to determine your eligibility for all sorts of financial aid, including grants, scholarships, and more, from the federal government, the state of Indiana, and the university. By not filing, you may miss out on aid that could help make your education even more affordable.
Where can I see my financial aid information?
If you have completed the FAFSA and been admitted to UIndy, you can view your financial aid through your admissions portal as soon as your financial aid information has been processed.
What does it mean if I was selected for verification?
In some cases, additional information or documentation may be needed to finalize your financial aid. Verification is the process UIndy uses to confirm that the data reported on your FAFSA is accurate. Being selected for verification doesn't mean you've done anything wrong. Most students are selected for verification at random. If you're selected for verification, you can see what information is needed on your admissions portal. Make sure to submit the required documents as soon as possible; your financial aid can't be finalized until everything is turned in.
What do I do if my or my parents' income changes? Can I edit the FAFSA after I submit it?
Your FAFSA results are based on tax information from prior years. If your family's financial situation has changed significantly from what was reported on your FAFSA, reach out to your admissions counselor. The financial aid office may be able to collect information that would allow us to re-evaluate your financial aid eligibility based on your current financial situation.
I'm paying for my education on my own. Why do I need to include my parents' information in my financial aid?
According to the federal government, you may still be required to provide parent information even if you are paying for your education on your own. Only students that meet certain conditions, like having dependents of their own, being married, or being over the age of 24, do not have to provide parent information. Check here to determine if you are required to provide parent information on your FAFSA.
What's the difference between a loan and a grant?
A grant is money that you don't have to pay back. A loan must be repaid.
Do I have to pay my student loans while I'm still in school?
As long as you are enrolled at least half-time (6 credit hours), you will not have to make payments on your student loans. But when you graduate, drop below half-time enrollment, or leave the university, payments will be required. Most federal loans, like Federal Direct Subsidized and Unsubsidized Loans, have a six-month grace period before your first payment is due.
Can I receive federal student aid if I was or am in foster care?
Yes. In most cases, students that are or were in foster care are considered independent students for financial aid and may be eligible for federal, state, or university aid based on their FAFSA results.
Do I have to reapply for financial aid every school year?
Yes, you have to file the FAFSA every year that you plan on enrolling in college
I'm a veteran. What do I need to provide for financial aid?
As a first step, complete your FAFSA. This will help us determine your eligibility for financial aid, like Federal Pell Grants. If you will be pursuing military benefits through the Department of Veterans Affairs, make sure to review the details on how to take advantage of that assistance. We will work with you to maximize your eligibility for aid and help you utilize the benefits you've earned for your service.
What is work study? Am I required to have a job?
Federal Work-Study (FWS) is a program that allows students with financial need to earn money through a part-time job on campus or in the local community. Students that are eligible for FWS apply with potential employers. You will receive a bi-weekly paycheck for hours that you work and can use your earnings to assist with your educational expenses.
The financial aid process doesn't have to be a mystery. Do you still have questions? Contact UIndy's Office of Financial Aid at financialaid@uindy.edu to speak with an expert in the process!