Indiana Activists Explore the Past, Present, and Future of Environmental Justice in Indianapolis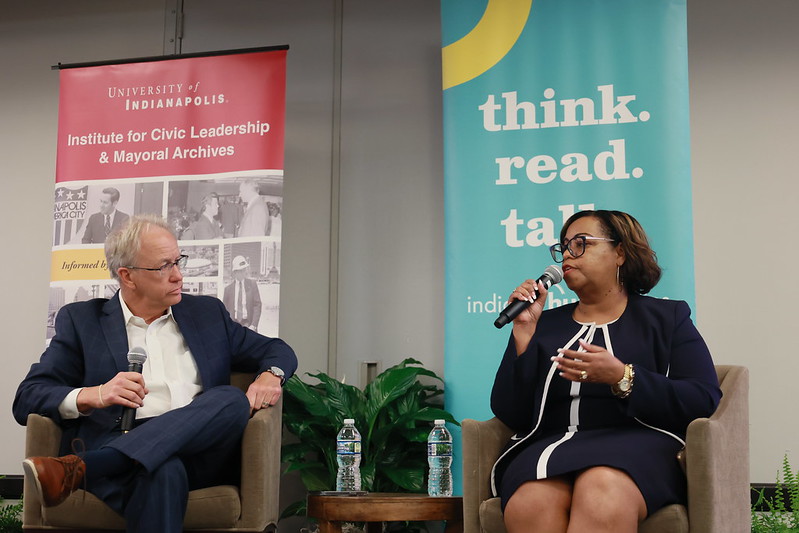 UIndy, Indiana Humanities host Eighth Annual Richard M. Fairbanks Symposium
INDIANAPOLIS – The University of Indianapolis and Indiana Humanities this week hosted the Eighth Annual Richard M. Fairbanks Symposium, titled, "Environmental Justice in the Circle City: Past, Present, and Future."
The symposium brought environmental equity and justice advocates from across the state of Indiana together to discuss how civic leaders in Indianapolis should be addressing issues of equity and the environment.
"Each iteration of this symposium has been borne by the past, but engaged with the present," said Dr. Edward Frantz, event organizer and Chair of the UIndy Department of History and Political Science. "The environmental justice movement has been going on for more than 50 years and, as we heard from our panelists and keynote speakers today, there is still plenty of work to be done. We're thankful for the support of our partners, Indiana Humanities, and Richard M. Fairbanks Foundation, whose generosity has allowed UIndy to bring together communities and stakeholders to find solutions to one of our city's most pressing social issues."
"Convening local leaders, activists, students and the public around issues of environmental justice and equity perfectly aligns with our current thematic initiative, Unearthed." said Megan Telligman, Director of Programs at Indiana Humanities. "We are grateful to have been part of this project and hope that the events' discussions inspire people to continue to come together to think critically about the past, present and future of our built and natural environment and take equitable action to secure a sustainable future."
Panelists Kaila Austin (Norwood-Lovetown Community Archives), Morgan Mickelson (City of Indianapolis), Michael O'Connor (Inotiv) and Britt Redd (City of Indianapolis) opened the symposium by exploring past city and state environmental policy that shaped today's city of Indianapolis. The discussion spanned from the Indiana Redevelopment Act, passed in the 1940s, to the numerous highway expansions in and through the city, to the fundamental changes made to the geography of neighborhoods like Norwood within the past ten years.
During the symposium's keynote INconversation, Denise Abdul-Rahman (Chisholm Legacy Project, Indiana NAACP) and Brian Payne (Central Indiana Community Foundation) used their experiences within their respective organizations to explain what civic leaders are called to do about environmental justice and equity. Both speakers agreed that it starts with ensuring that resources, especially funding, are directed to the right organizations and communities.
"My role in Indiana, Indianapolis and beyond is to continue to share the stories, share the light to share the different data points, such as the fact that African Americans pay $41 billion to the energy sector, but only hold one-percent of energy jobs, and 2-percent of Black Business Enterprise contracts," said Abdul-Rahman. "In Indiana, we're working on having racial justice/equity in all policy and in the fair distribution and appropriation of dollars in all policies that the city, state and federal pass. It's crucial that we ensure that these dollars make their way to Black and Brown communities. We missed the first New Deal, and this is a once in a lifetime opportunity to ensure that these resources make it into our communities in order to change the trajectory of our very lives.'"
The symposium concluded with a discussion on building a more just future for Indianapolis with panelists Paula Brooks (Hoosier Environmental Council), Chioh Mwaafrika (Kheprw Institute), and Carly Weidman (Keep Indianapolis Beautiful).
"I always tell people that the goal is justice," said Brooks. "Not equity, not diversity, not inclusion. Justice. And that's really hard for people to accept because power does not cede power. In order to have justice, the people who hold power have to share some of that power and learn to collaborate with their communities."
UIndy and Indiana Humanities expect to hold the Ninth Annual Richard M. Fairbanks Symposium in March 2024.