University of Indianapolis First Indy-Area School to be Featured in Amazon Prime Series "The College Tour"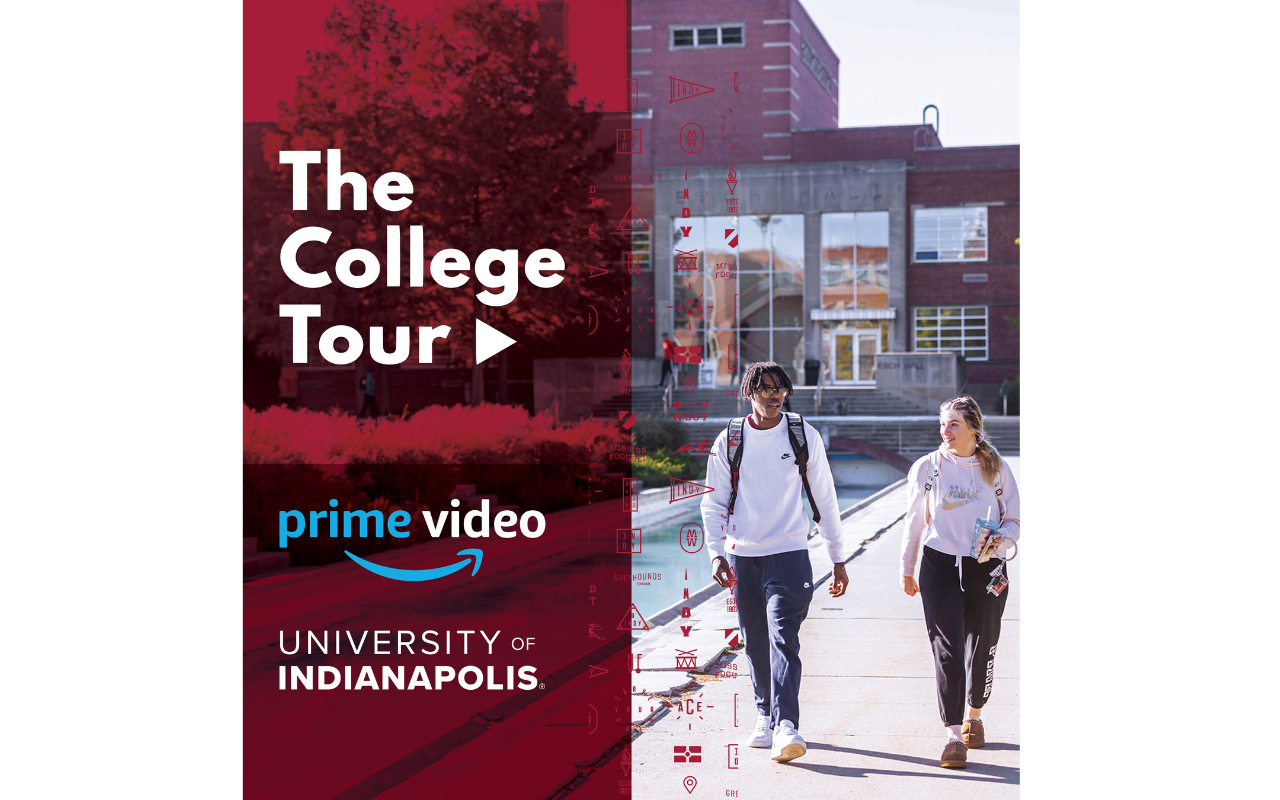 INDIANAPOLIS— When Season 10 of Amazon's The College Tour premieres the University of Indianapolis will become the first Indianapolis-area school to be featured. The College Tour is a web-streaming television series which allows colleges and universities to market their unique offerings to prospective students who might not otherwise have the opportunity to visit campus.
The series is hosted by Alex Boylan, former winner of CBS's Amazing Race. Alex and his Emmy-Award winning production team have also worked on Survivor, The World's Toughest Race, and The Chef's Table, among others. Each episode of The College Tour features a single institution and contains student-driven segments that will give viewers an inside look at what it's truly like to be a student at the featured college or university. Host Alex Boylan says the show "provides a well-rounded perspective that provides viewers with a feel for the culture and vibe of a campus that they can't get just by reading about it online."
From July 24 to July 28, The College Tour will be on UIndy's campus filming 10 University of Indianapolis students who will showcase their college experience on a variety of topics from campus life, housing, academics, athletics, what it's like to go to college in Indianapolis, and more.
Media are invited to attend any of the taping dates for a behind the scenes look at the filming of the episode and a discussion with UIndy representatives and students. Host Alex Boylan will be available for media on Thursday, July 27, from 7 a.m. to noon.
The University of Indianapolis episode will be available on The College Tour website in October 2023, and will premiere on Amazon Prime in February 2024.
WHO: University of Indianapolis, Amazon Prime's The College Tour
WHAT: Filming of Amazon Prime's The College Tour at UIndy
WHEN: Thursday, July 27th, 7 a.m. to 4 p.m. (ET)
WHERE: University of Indianapolis, 1400 E. Hanna Ave., Indianapolis, IN 46227
###
About The College Tour
The College Tour is a powerful series created to empower high school students to virtually travel across America for an inside look at colleges and universities. Hosted by Amazing Race winner Alex Boylan, each episode of The College Tour highlights a college or university through the eyes of its students, faculty and alumni, providing prospective students with an intimate look at life on campus beyond what is written in brochures or websites. The College Tour is available on Amazon Prime and across The College Tour platform including its own mobile app and www.thecollegetour.com.
About the University of Indianapolis The University of Indianapolis, founded in 1902, is a private university located just a few minutes from downtown Indianapolis. The University is ranked among the top National Universities by U.S. News and World Report, with a diverse enrollment of nearly 5,300 undergraduate, graduate and continuing education students. The University offers a wide variety of study areas, including 100+ undergraduate degrees, more than 40 master's degree programs and five doctoral programs. More occupational therapists, physical therapists and clinical psychologists graduate from the University each year than any other state institution. With strong programs in engineering, business, and education, the University of Indianapolis impacts its community by living its motto, "Education for Service." Learn more: uindy.edu.