Five Reasons to Read George Eliot's Middlemarch with Communiversity 2023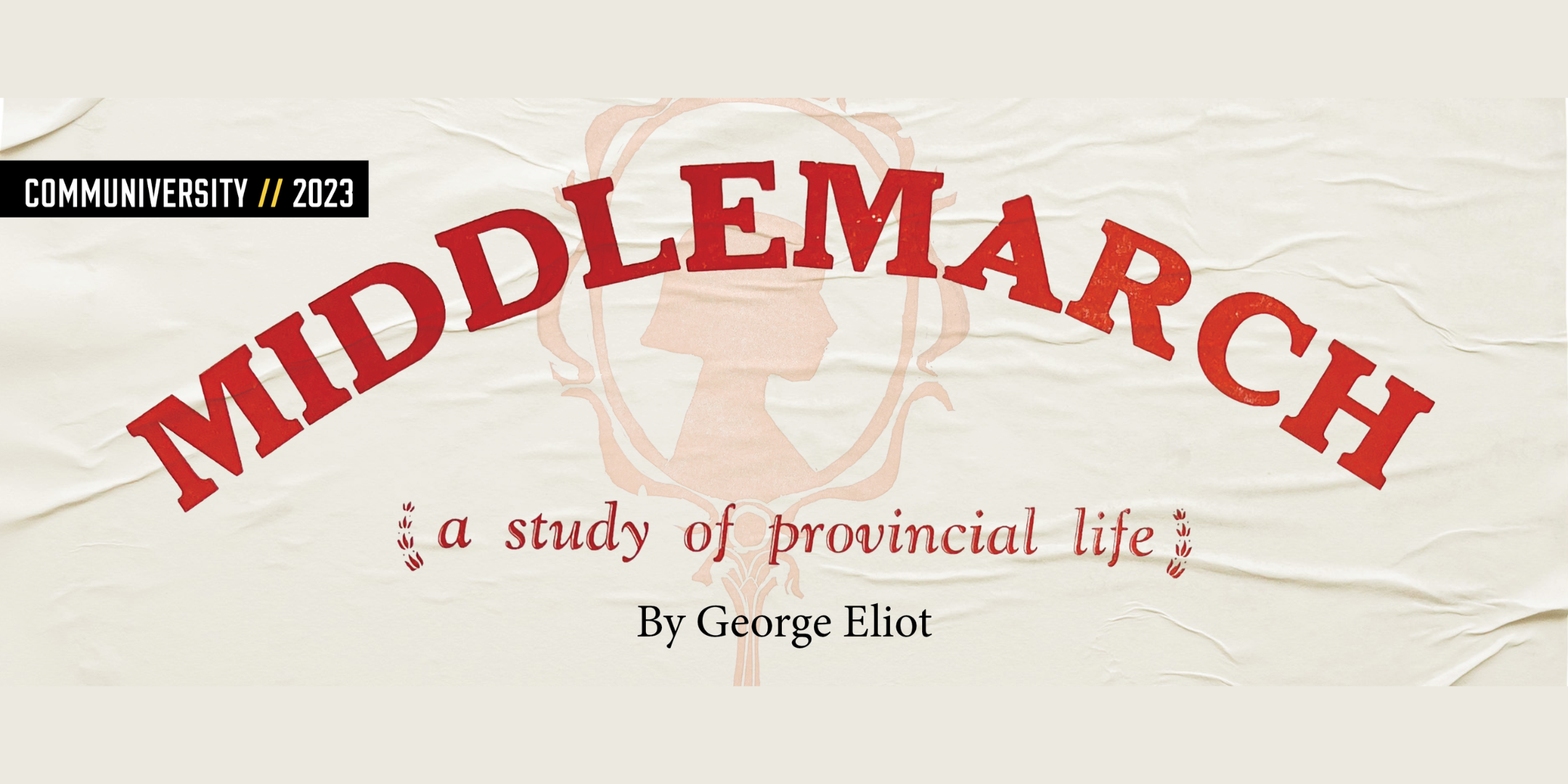 by Troi Watts
Communiversity – the University of Indianapolis' free, online, book-club-style course – returns this fall to explore the 1872 novel by George Eliot (a.k.a. Mary Anne Evans), Middlemarch.
Why should you register for Communiversity this year?
Because you're a fan of historical fiction.
Historical fiction not only provides an escape into a world without iPhones or Netflix, but also sets the stage to understand real history and how our society got to where it is today. Eliot's masterpiece takes place in a fictional English provincial town during the great reform movements of the nineteenth century (between 1829 and 1832). So if you're a fan of English literature and history, Middlemarch should be on your 'To-Be-Read' list.
Because you want to explore themes like women's rights, medical ethics, religion and education in literature.
While Middlemarch focuses mostly on the life of Dorothea Brooke, a 19-year-old orphan living with her sister and uncle, and Tertius Lydgate, a doctor new to town, the novel highlights several characters from a variety of backgrounds, each tackling personal struggles. From courtship and marriage to careers and livelihoods, the variety of Middlemarch's characters and conflicts gives readers a thorough view of social issues in the early nineteenth century, many of which continue to be relevant to today's society.
Because you want to join a book club, but don't have time to meet in-person.
Between work, school, and everyday life, you may not have the time (nor the energy) to drive across town to join the local book club. Thankfully, Communiversity can bring the book club to you. The course is completely virtual, with manageable weekly readings to do at-home or wherever you read best, and online discussions with fellow readers.
Because you enjoy hearing new perspectives on classic novels.
In addition to weekly readings and online discussions with fellow Communiversity students, you'll have the opportunity to attend three lectures exploring the themes of Middlemarch by professors from UIndy and Hollins University. Each faculty member represents a different area of study, giving students the opportunity to learn more about the many themes in Middlemarch and hear new perspectives. This year's lecture series features:
Dr. Chad Martin, Associate Professor of History
Dr. Liz Ziff, Assistant Professor of Sociology
Dr. Jonathan Evans, Professor of Philosophy
Dr. Julie Pfeiffer, Professor of English at Hollins University
Because it's fun and, best of all, free.
Communiversity is free and open to the public. Participants are not charged tuition and can even access a copy of Middlemarch for free throughout the course, courtesy of Project Gutenberg.
Did we convince you? Learn more about Communiversity 2023 and register here by Friday, September 1.