School of Education Prepares Future Educators in New Teacher Recruitment Initiatives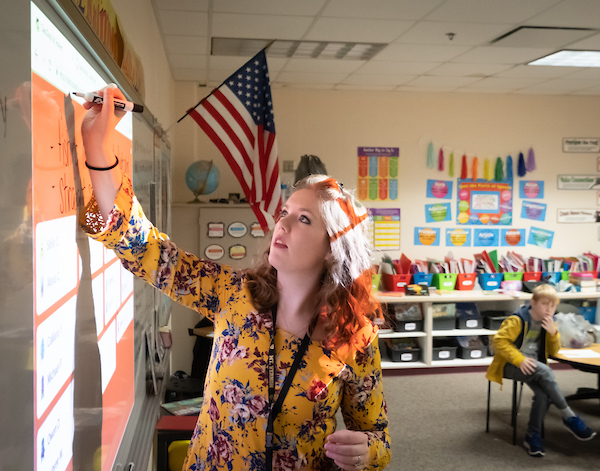 Written by Troi Watts
The School of Education at the University of Indianapolis is tackling Indiana's teacher shortage through new teacher recruitment and preparation initiatives, made possible through a $750,000 grant from the Indiana Department of Education. 
Funding from the Attract, Prepare, Retain (APR) grant has allowed UIndy to establish new programs to promote interest in careers as educators in high school students. Specifically, the UIndy School of Education established four goals to help improve teacher recruitment rates in the state:
Grow dual credit offerings to students interested in teacher education
Provide a week-long summer Teacher Prep Academy on UIndy's campus for high school juniors and seniors who aspire to become teacher educators
Develop a paid apprenticeship program where UIndy Teacher Education candidates will have the opportunity to return to their K-12 district to work as a paraprofessional while also completing their college field requirements
Establish a positive public image around Marion County's teaching profession through an aggressive and strategic marketing campaign
The School of Education has made great progress in meeting these goals since receiving the APR grant earlier this year, with the inaugural Teacher Prep Academy having taken place this past June.
37 juniors and seniors from nearly a dozen Central Indiana high schools participated in the 2023 Teacher Prep Academy held on UIndy's campus. The students practiced hands-on skills in the UIndy School of Education's Makerspace, visited community education partners, and more. Additionally, all participating students had the opportunity to earn three dual-credit hours in one of two courses: EDUC 100: Explorations in Education or EDUC: 203: Psychology of Development, Learning, and Instruction, to give them a head start on their future careers as educators.
In addition to the APR grant, UIndy has entered into an exclusive partnership with Teach for America to recruit and educate aspiring teachers. Thanks to this partnership, Teach for America will recruit prospective education students and send them to the UIndy School of Education to receive their master's in teaching. The first cohort of students resulting from this partnership began their classes this past July and will spend the next two years learning and preparing to be world-class educators.
"We are excited about the Teach for America Corp members receiving teacher preparation from our School of Education," said John Kuykendall, Dean of the UIndy School of Education. "Providing them with the tools they need to succeed in the classroom is essential not only to the learners they serve but to our society as a whole. We look forward to strengthening the partnership so that Indianapolis is consistently recognized as a city for Teach for America to send talented individuals for their teaching graduate degrees and licensure."