Forensics Team Participates in Large Scale Identification Effort at the US-Mexico Border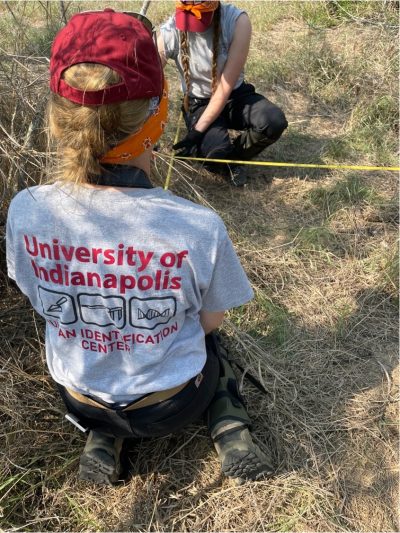 Immigration across the US-Mexico border has been a politically charged topic for more than half a century. Those who attempt to cross the border undocumented face perilous journeys that can cost them their lives and, in many cases, result in a large number of unidentified human remains cases that overwhelm local resources for death investigation.
In an effort to provide closure to families of the dead, Dr. Krista Latham, professor and forensic anthropologist, and her graduate students with UIndy's Beyond Borders Humanitarian Forensic Science Team have been traveling to the Texas Borderlands for the last 10 years to help with efforts to recover and identify migrant remains and return them to their home countries.
"Through this immersive field experience, we are preparing capable forensic students and anthropologists for working in politically charged and emotionally challenging conditions around the world," said Latham. "Our educational philosophy and approach consists mostly of forming teams of human biology graduate students trained in forensic anthropology and archeology techniques, for fieldwork involving mass death situations."
The goals of each trip to the border are both practical and theoretical. While the Beyond Borders team provides hands-on high-quality forensic services, they also obtain a better understanding of what it means to be engaged in a collective response to a humanitarian situation that's both politically charged and emotionally challenging.
In addition to their forensics work, Beyond Borders team members help with humanitarian projects, such as building, repairing, and refilling lifesaving water stations to provide water to migrants in extreme heat areas.