A Coat for Compassionate Care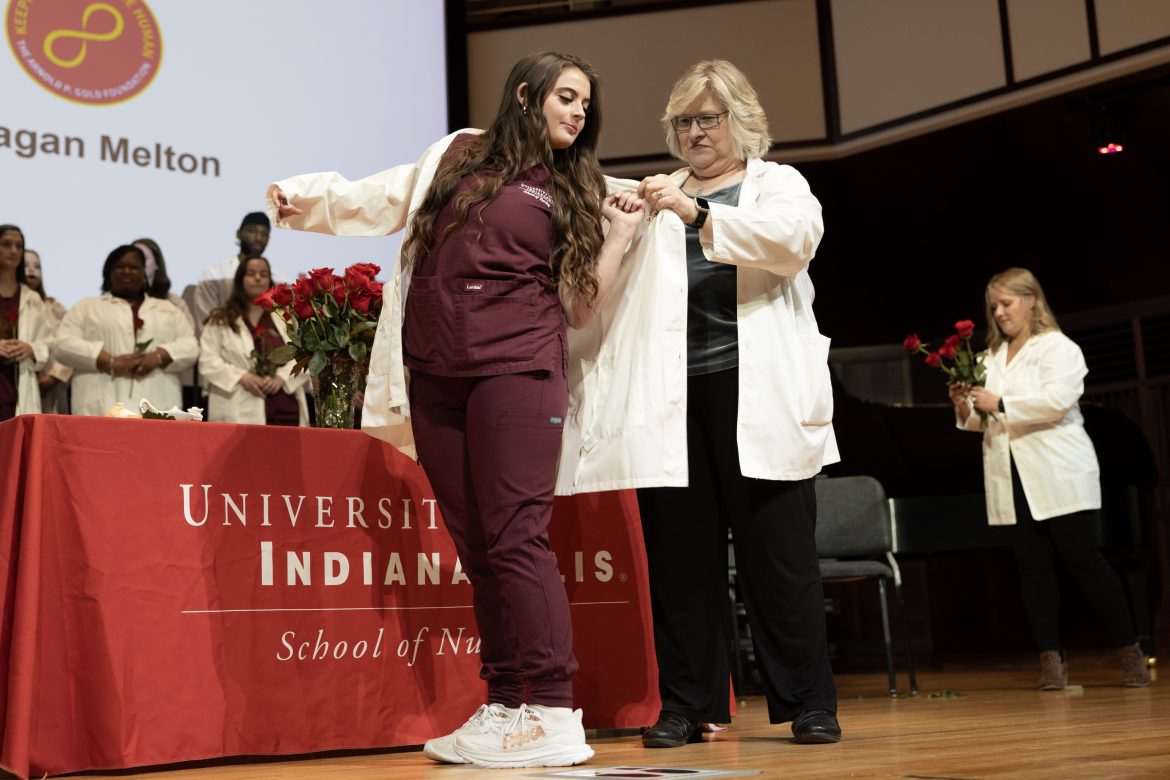 Written by Addison Campbell
64 UIndy nursing students in their junior year earned their white healthcare professional coat and took nursing compassionate care oath.
On October 5, 64 UIndy junior-year nursing students earned their white healthcare professional coats. This ceremonial rite of passage emphasizes the importance of compassionate patient care at the start of their training. In addition to being "coated," the third-year students professed their oath to compassionate care before family and friends. Franciscan Health provided sponsorship of this semester's event, and the UIndy Music Department live-streamed the ceremony to extend the access for the university's distance students to participate virtually in the ceremony, as well as to friends and family who were unable to attend the event in person.
UIndy's nursing students and graduates can be found providing care throughout the metropolitan Indianapolis area, including at:
Ascension Health
Community Health Network
Eli Lilly and Company
Eskenazi Health
Franciscan Alliance
Hancock Regional Hospital
Hendricks Hospital
IU Health – Methodist, University, West, North, and Riley
Johnson Memorial
Major Hospital
Riverview Hospital
Richard L. Roudebush Veterans' Administration Medical Center
"We started this ceremony to acknowledge the hard work, dedication, and perseverance of our students," said Toni Morris, associate professor of nursing. "Nursing school can be very difficult, and acknowledging our student's commitment to compassionate care early in their professional formation is one way we can give back to our students in a powerful and meaningful way."
The White Coat Ceremony was initiated in 1993 at Columbia University College of Physicians & Surgeons by The Arnold P. Gold Foundation. Arnold P. Gold, MD, a Columbia professor, believed that the oath to compassionate patient care taken by new physicians at the end of medical school came too late. Today, nearly every medical school in the United States, hundreds of nursing schools, and many other health profession schools participate in this tradition of humanistic care.
During the ceremony, students in unison recite the Oath to Compassionate Care with a commitment to humanistic – compassionate, collaborative, and scientifically excellent – patient care. The oath embodies the essence of the Gold Foundation's vision to "keep healthcare human" which simply translates to keeping a human connection at the core of care delivery, teaching, and practice.
Toni Morris, associate professor of nursing, brought the ceremony to UIndy in February 2022 after reaching out to the Gold Foundation, which was providing financial support for these ceremonies with the goal of increasing the number of nursing schools offering the ceremony to the level of medical schools. The Gold Foundation supports 410 schools of nursing in 49 states and the District of Columbia.
"The work nurses do can sometimes be overlooked," said Morris. "We believe the White Coat Ceremony is an important contribution to the profession of nursing, and the ability to share this with our students early in their career has the potential to create lasting impact."
"The inaugural Gold Foundation grant included $1,000 for our first ceremony and a specially designed pin the students receive as a visual reminder of their oath and commitment to provide compassionate and high-quality care," Laura Darnell, interim undergraduate program director and assistant professor of nursing. explained. "While the monetary support was for the initial ceremony, the Gold Foundation provides the pin free of charge for all future ceremonies."