Michael Chambers Named 2023 Student of the Year by National Collegiate Honors Council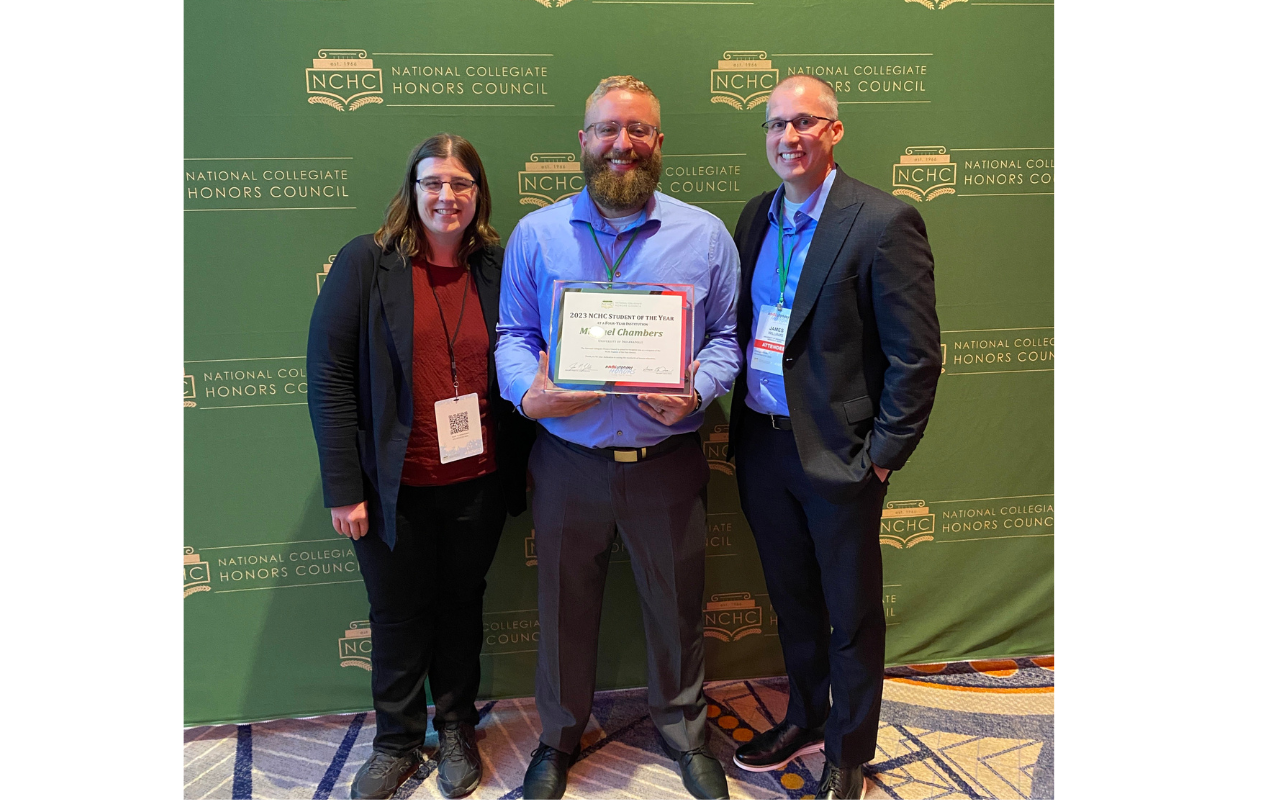 Written by Troi Watts
The National Collegiate Honors Council (NCHC) named University of Indianapolis' Ron and Laura Strain Honors College student Michael Chambers '23 '28 (Psychology, PsyD) as the 2023 Student of the Year for a four-year institution at their annual conference in Chicago earlier this month.
The NCHC Student of the Year Award is presented to Honors students who are student members of NCHC, have made an impact on their Honors program, and who have participated in Honors at the regional and/or national level. Michael was the singular student awarded this honor, outshining thousands of students from hundreds of NCHC member institutions across the nation, including regional universities like Purdue University, Butler University and Ball State University.
Michael was among the first students to transfer directly from a two-year Honors program, at Ivy Tech Community College, to the four-year Honors program at UIndy. As part of the Honors curriculum at UIndy, students are required to craft and develop their own undergraduate project and thesis, with a particular focus on student's understanding of the current state of knowledge via a literature review and on their ability to devise an appropriate methodology for approaching their inquiry. Michael chose to study a topic inspired by his own experience; he designed a psychological study to investigate imposter syndrome amongst transfer students.
For his outstanding final project product, Michael received the 2022 Honors Student of the Year award.
In addition to his studies, Michael also served as the Vice President of the UIndy Honors Student Association and as a student representative to the Executive Board of the Mid-East Honors Association.
Michael played an integral leadership role in the success of the 2023 Mid-East Honors Association Conference, which was the largest to be hosted in the region, hosted by UIndy. Not only did Michael attend every planning meeting as a student representative, but he also volunteered his time and efforts to plan conference events and to moderate a plenary discussion on the nature of honors education that included Honors directors, faculty, and students.
It is for all these reasons and more that Dr. James Williams, associate professor of history and executive director of the Ron and Laura Strain Honors College, nominated Michael for the NCHC Honors Student of the Year Award.
"Michael is an exceptional student. Not many people can come into a university or college and deliver the kind of dynamic impact that Michael has, especially for someone who does not fit the traditional definition of a 'college student'," said Dr. Williams. "Michael receiving this honor is a highlight of my career. I think any teacher or mentor is overwhelmed with joy to see a student be recognized for their gifts, their work, and their success. Most Honors directors never get to see that happen for a student in their lifetime. I'm just filled with awe at what he has achieved, and I'm humbled to be able to celebrate this achievement with him.
"Michael's award helps us to make the case that the Strain Honors College provides one of the best experiences in higher education, not just in Indianapolis, not just in Indiana, but all around the country," continued Dr. Williams. "Here, you'll encounter amazing students like Michael, but we will also take the time and care to grow you into your fullest potential. For our current students, I hope that it will inspire them to put themselves out there and say 'yes' to opportunities."
Michael is currently pursuing his clinical psychology doctorate within UIndy's nationally-ranked PsyD program as part of his journey to becoming a clinical psychologist.
"Being selected as the National Honors Student of the Year by the NCHC is a dream come true, even though it wasn't a dream I knew I had when I first started," said Michael.
"When I transferred to UIndy from Ivy Tech and sat down with Dr. Williams all I knew was that I wanted to complete my bachelors degree and go on to earn my doctorate in psychology. Although the process of transferring from one Honors program to another was novel, Dr. Williams assured me that he would work with me every step of the way in order to make sure I succeeded in graduating with distinction. He pushed me to explore research opportunities through the Honors thesis process so that I might make myself a more formidable candidate for grad school which led me to work with Dr. Katie Boucher and Dr. Michael Poulakis, whom I hold in the highest regard. The culmination of all our efforts came to a head at the NCHC Annual Conference in Chicago, where I was thankful to have my family in attendance for the acceptance of the award.
"While the award had my name on it, I know full well that this is a direct reflection of the efforts of Dr. Williams and the entire Honors community here at UIndy. And for that, I am so grateful."
You can learn more about Michael in his full profile, available on YOUIndy.