Concurrent courses will advance careers faster, feed workforce demand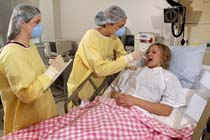 The schools of nursing at the University of Indianapolis and Ivy Tech Community College are collaborating on a new program – the only one of its kind in the state – that will make it faster, more convenient and less expensive for students to obtain a Bachelor of Science in Nursing degree.
Set to launch this fall, the new ASN/BSN Concurrent Enrollment Program potentially enables a student to earn a bachelor's degree in just three years of study.
Students will take three key nursing courses through UIndy while still in the second year of Ivy Tech's two-year Associate of Science in Nursing program. The UIndy courses will be available online, or in a hybrid online/face-to-face format with class meetings at Ivy Tech's Fairbanks Center for Health Professions on Indianapolis' northeast side. Tuition is charged at low evening rates, and students are eligible to apply for tuition vouchers through the state's WorkOne Centers.