UIndy, Ivy Tech launch nursing program
Concurrent courses will advance careers faster, feed workforce demand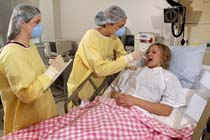 The schools of nursing at the University of Indianapolis and Ivy Tech Community College are collaborating on a new program – the only one of its kind in the state – that will make it faster, more convenient and less expensive for students to obtain a Bachelor of Science in Nursing degree.
Set to launch this fall, the new ASN/BSN Concurrent Enrollment Program potentially enables a student to earn a bachelor's degree in just three years of study.
Students will take three key nursing courses through UIndy while still in the second year of Ivy Tech's two-year Associate of Science in Nursing program. The UIndy courses will be available online, or in a hybrid online/face-to-face format with class meetings at Ivy Tech's Fairbanks Center for Health Professions on Indianapolis' northeast side. Tuition is charged at low evening rates, and students are eligible to apply for tuition vouchers through the state's WorkOne Centers.
After completing the ASN requirements and passing the NCLEX licensing exam, which is required to work as a registered nurse, a student will be able to obtain the BSN degree with just two additional semesters of clinical nursing courses.
"This program is the first of its kind and is the most convenient and cost-effective way for our students and graduates to complete the Bachelor of Science in Nursing degree within the state of Indiana," said Laurie Peters, associate vice president for Nursing Education at Ivy Tech. "We are incredibly excited about this partnership and the opportunity it will provide to our students."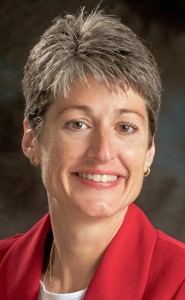 Nurses are in high demand and will be for the foreseeable future, said Anne Thomas, dean of the UIndy School of Nursing. Nursing schools are working to produce more graduates to meet the need fueled by the aging population of baby boomers and the aging nursing workforce. Currently, the United States has an estimated 100,000 job openings in nursing.
"We are responding to what the healthcare industry needs right now," Thomas said, noting that state leaders have called for Indiana colleges and universities to enable smoother transitions among institutions and degree programs in all fields. "If this program is successful, as we expect, it has the potential to expand statewide."
The new program essentially allows Ivy Tech nursing students to join the RN-to-BSN program that UIndy already offers online, on campus and through partnerships with local hospital systems. The university's other programs include a Doctor of Nursing Practice degree and several Master of Science in Nursing specialties. More information is available at www.uindy.edu/nursing.
Ivy Tech's programs in nursing and practical nursing produce more nurses per year than any other school in the state of Indiana.