Faculty, staff giving reaches new heights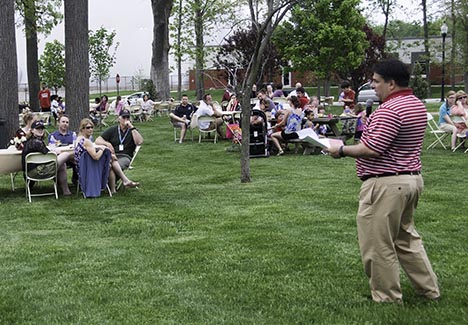 UIndy President Robert Manuel thanks university employees and their families during a Monday evening picnic to celebrate the success of the 2014 Faculty & Staff Annual Giving Campaign.
The UIndy faculty and staff took their generosity to a new level this year, donating a record-setting total of more than $120,000 to fund scholarships, academic activities, athletic programs and other needs at the university.
More than 300 individuals, including 40 percent of UIndy's full-time employees, participated in the 2014 Faculty & Staff Annual Giving Campaign.
For every new dollar given in April, an anonymous donor had pledged up to $20,000 in matching amounts for the UIndy Fund, to support the university's five-year development plan. The challenge helped inspire 117 people to make new or increased contributions during the month, more than twice as many participants as in April 2013.
"This university's faculty and staff are clearly supportive of our students and mission," said Christopher Molloy, vice president for University Advancement. "With the leadership of a great campaign committee, and the energy produced by our recently announced $50 million development plan, the annual Faculty & Staff Campaign soared to new heights in giving and participation."
President Robert Manuel invited UIndy employees and their families to celebrate Monday evening with a picnic outside Schwitzer Student Center, featuring food, music, games, a bounce house and Ace the greyhound mascot.
Learn more about faculty and staff annual giving here.