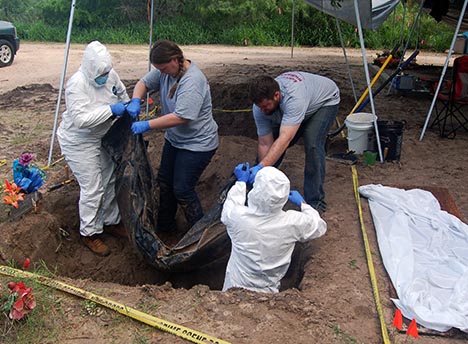 University of Indianapolis students (clockwise from left) Erica Christensen, Jessica Campbell, Justin Maiers and Ryan Strand exhume unidentified remains from a Texas grave in 2013. Follow their story at beyondborders.uindy.edu.
This is not your typical summer break from college: A University of Indianapolis professor and five students will leave for southern Texas on Saturday to spend two weeks digging holes in oppressive heat and humidity, with more than a few snakes and scorpions as company.
Their mission is humanitarian and not for the squeamish. These are forensic scientists, volunteering time and expertise to exhume human remains and begin the process of identifying undocumented migrants who have died in remote ranch country after crossing the U.S. border. The destination is rural Brooks County, Texas, where hundreds and perhaps thousands of the missing – many of them women and children – have been buried in pauper graves in a small cemetery.
The phenomenon is playing out in border communities across the Southwest, and local officials often lack the resources to identify or even properly bury the remains. Meanwhile, desperate relatives throughout Latin America and Asia await word on their missing loved ones. UIndy's Dr. Krista Latham, assistant professor of biology and anthropology, calls it "a human-rights crisis."
"I realize some people are not immediately sympathetic to this cause, but these victims represent families fleeing lives of poverty and violence in their home countries," says Latham, director of field operations for the project. The work is part of a broader initiative overseen by the International Consortium of Forensic Identification, whose members include Latham, Associate Professor Lori Baker of Baylor University and Associate Professor Kate Spradley of Texas State University.
This is a return trip for Latham and her four graduate students who began work on the project in 2013: Jessica Campbell of LaFarge, Wis.; Erica Christensen of Indianapolis; Justin Maiers of Lapeer, Mich.; and Ryan Strand of Irving, Texas. All are pursuing master's degrees in human biology at UIndy, and all are experienced in the techniques of forensic archeology. The University of Indianapolis Archeology & Forensics Laboratory is often the first call for assistance when human remains are discovered in Indiana and surrounding states, and students assist with field and lab work on those cases.