Artist-in-Residence Drew Petersen creates unique learning opportunities for piano students
INDIANAPOLIS – Music students at the University of Indianapolis are reaping the benefits of a new artist-in-residence program that connects them with unique learning experiences and a global professional network.
Drew Petersen, 2017 American Pianists Awards winner, Christel DeHaan fellow and University of Indianapolis artist-in-residence, has held masterclasses, private coachings, lectures and performances as part of the partnership between the American Pianists Association and the University.
Petersen returns this week to offer another masterclass for students and the community on Wednesday, Feb. 14, followed by a solo repertoire and concerto collaboration with the University of Indianapolis Chamber Orchestra on Friday, Feb. 16 (sponsored by Katz, Sapper & Miller. Register here.)
"These experiences have the power to inspire students in ways that can serve as a catalyst for significant growth in their musicianship and career aspirations," said Brenda Clark, Department of Music chair.
Learn more about the University of Indianapolis Department of Music programs.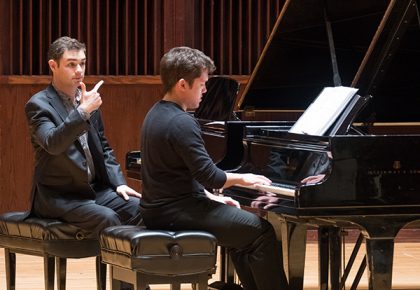 The public is invited to observe Petersen's next masterclass, scheduled from 5-7 p.m. on Wednesday at the Christel DeHaan Fine Arts Center (Ruth Lilly Performance Hall). No registration is required.
A cum laude graduate of Harvard University in social sciences, Petersen pursued undergraduate and graduate studies in music at the Juilliard School. He also has been a prizewinner in major international competitions and has been profiled in the New York Times, New York Magazine and the documentary Just Normal.
Petersen said interacting with the talented music students on campus has been one of the biggest rewards of his new connection to the University.
"Whenever I interact with the students and faculty, I am reminded that each day at UIndy is an opportunity to explore great music together and examine and innovate the best ways we can share it with the community. I've been having a great time, and I look forward to all that lies ahead," Petersen said.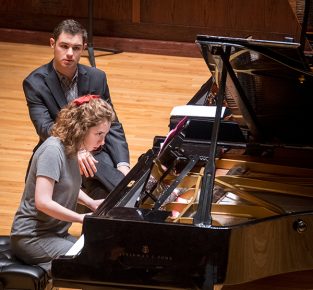 Students also have enjoyed Petersen's mentorship. During her masterclass with Petersen, Carrie Atkinson '18 (music – piano) was inspired by his remarkable playing technique and personable approach.
"Drew brought an excitement to the music that was inspiring to see as well as some wonderful insights to the music that reinforced what my teachers had already been instructing me in," Atkinson said.
Richard Ratliff, professor of music, said Petersen's fall 2017 performance on campus demonstrated the kind of grace under pressure that he encourages in his students.

"After our week with Drew, students approached the remainder of the semester with energy and enthusiasm. Students now realize that such mastery is a step-by-step process," Ratliff explained.
Cole Snapp '18 (music – piano, composition concentration) had a private lesson and a masterclass with Petersen and found both experiences to be motivational.

"Having an amazingly proficient pianist like Drew coach me was extremely valuable. He was able to bring things to my attention that I would not have otherwise thought. In a Zoltan Kodàly piece I was working on, he asked me to play the climactic section louder and louder until I was literally throwing my whole weight into the keys," Snapp said.
"Since Drew is not much older than our students, his command in public presentation really made an impact. His expertise in a wide variety of repertoire — from the 18th century to the present — was apparent to everyone as he worked with students and spoke insightfully about the music he performs and is planning to record," Ratliff said.
Atkinson said she's grateful for the partnership between the APA and the University.
"I think that it is so enriching to get to work with musicians of his calibre. Drew is one of the top pianists on the scene right now, and getting to work with him was a very valuable and fresh experience. The best part, for me, was seeing how excited he got about the music," she said.
Written by Sara Galer, Senior Communications Specialist, University of Indianapolis. Contact newsdesk@uindy.edu with your campus news.