Staffer tapped to review DOD cancer research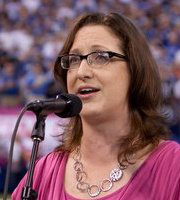 Jeanie Neal, grants coordinator for UIndy's Office of Grants & Sponsored Programs, spent Spring Break putting her professional skills to use – for the Department of Defense.
The DOD, as it turns out, sponsors a Breast Cancer Research Program that received $120 million in funding from Congress last year, and someone has to decide where that money goes. Neal, who has taken an advocacy role since receiving her own diagnosis in 2001, was nominated to serve as a consumer reviewer, working alongside scientists to evaluate funding applications for innovative cancer research projects.
Consumer reviewers represent the interests of breast cancer survivors and their loved ones in weighing the pros and cons of proposed research. Neal's day job gives her a unique perspective on the task.
"Most of the other consumer reviewers I've met throughout the years have had little to no experience with grants previously," she says. "My professional background is certainly helpful as a consumer reviewer, yet possibly made me a bit more critical when drafting my reviews."
Neal, whose grandmother and mother also experienced breast cancer, may be familiar to readers of this space. In 2010, she represented the Young Survival Coalition in singing the National Anthem at a Colts game, as seen in the photo above.
For more information about the Department of Defense Breast Cancer Research Program, click here.