Professor named to new assistant dean post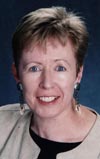 UIndy Professor Gerburg Garmann has been named to the newly created position of Assistant Dean of Interdisciplinary Programs and Service Learning.
Garmann joined the faculty in 1999 and teaches German and French languages and cultures in the Department of Modern Languages. In her role as assistant dean, she will lead collaboration across the university's colleges, schools and departments to boost the visibility and sustainability of interdisciplinary programs and to develop new initiatives that incorporate perspectives from multiple academic disciplines.
"Dr. Garmann offers a compelling vision for building interdisciplinary approaches into UIndy's campus and intellectual life," said Executive Vice President and Provost Deborah Balogh. "This work is integral to our Vision 2030 strategic plan, and I look forward to supporting it and seeing the results."
Service learning also is a key component of the student experience at UIndy, where "Education for Service" is the longtime motto and hands-on community projects are integrated into many courses. During the 2012-2013 academic year, students reported nearly 12,000 hours spent in service learning activities and more than 12,000 hours of volunteer service work.
A native of Germany and a resident of Crawfordsville, Garmann holds a doctorate from Justus Liebig University Giessen and a master's degree from the University of Wisconsin-Madison. She is known internationally for her painting and poetry.