Forensic team to present Texas migrant project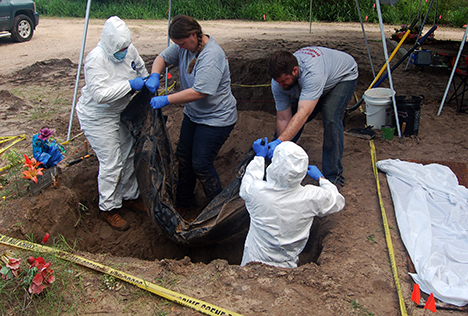 UIndy grad students (clockwise from left) Erica Christensen, Jessica Campbell, Justin Maiers and Ryan Strand exhume the remains of an undocumented immigrant last year in Texas. They will return to the site in June.
In a presentation April 2 at the Indiana Medical History Museum, a UIndy professor and her students will discuss their ongoing humanitarian forensic work in southern Texas, where an increasing number of border crossers are dying of exposure and being buried without identification.
"A Cemetery Without Crosses: Migrant Death and Forensic Investigations Along the South Texas Border" will begin at 4 p.m. in the amphitheater of the museum, 3045 W. Vermont St. Admission is free, but seating is limited. Reservations may be made at education@imhm.org.
UIndy Assistant Professor Krista Latham and four Human Biology graduate students traveled in 2013 to rural Brooks County, Texas, and helped to exhume more than 100 sets of human remains from pauper's graves in a local cemetery, where they were buried after being discovered on private ranch land. Thirteen sets of remains were brought back to UIndy's Archeology & Forensics Laboratory for skeletal analysis in preparation for possible DNA identification.
The presentation by Latham and students Jessica Campbell, Erica Christensen, Justin Maiers and Ryan Strand will introduce the audience to this human-rights crisis on the border and illustrate the work involved by following one unidentified individual from exhumation at the cemetery to forensic analysis in the laboratory.
The team will return to Texas in June to continue their work, providing a valuable public service as well as extraordinary hands-on experience for the students. Joining them will be an undergrad, senior biology major Cheneta Morrison. To defray travel and lodging costs, the UIndy students are collecting contributions through a Go Fund Me web page and accepting checks made out to the University of Indianapolis with "Beyond Borders Fund" in the memo line. The group also is selling awareness bracelets for $1 each. For more information on contributing, contact Dr. Latham at lathamke@uindy.edu.
The April 2 event is part of the Forensic Science Lecture Series, established in 2004 by the Indiana Medical History Museum and the University of Indianapolis to help educate the public in the forensic sciences and related fields, as well as to spotlight the fascinating stories that scientists have to tell.