Trustee, food director to be honored Saturday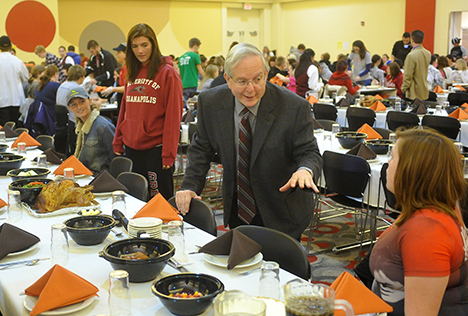 Ted Polk (center) greets students during one of the annual traditions associated with his Polk Food Services: a family-style turkey dinner at Thanksgiving. He is retiring this month after more than four decades serving the UIndy community.
Click here for details on Commencement 2014
Saturday's commencement ceremony at Key Stadium will include the presentation of honorary Doctor of Humanities degrees to two community-minded individuals and longtime friends of UIndy: University trustee and alumnus Murvin S. Enders Jr., board president and former executive director of 100 Black Men of Indianapolis, and Theodore H. Polk, who is retiring this spring after 41 years directing food service for students, faculty, staff and guests.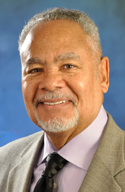 Enders retired after a career that included management and executive positions with the Chrysler Corp. and the Indianapolis Water Co., but he has never stopped serving the community. He has been a board member for many public and nonprofit organizations, and in 2005 he began his leadership of 100 Black Men of Indianapolis, which provides mentoring and educational programming for several hundred central Indiana youth each year. He joined UIndy's Board of Trustees in 1996 and has been active in campus events, serving as keynote speaker for the Martin Luther King Jr. Day Celebration in 2012. He also earned his MBA from UIndy in 1981.
Polk, a campus institution known simply as "Ted" to most, began his university work in 1973 and later launched his own Polk Food Services Inc., serving healthy and delicious food to students, faculty, staff, and visitors in a way that proved this was more than a business to him. His tenure has been marked by family-style holiday dinners, special recipes to accommodate student needs, expanded dining options, sustainable practices, and key contributions to countless events and charitable efforts. Although his friendly presence will be missed at daily meals and special events, key PFS staffers will remain at the university, and the administration has vowed to continue his traditions and standards of quality and service.
Read more about Ted Polk in the latest issue of UIndy's Portico magazine.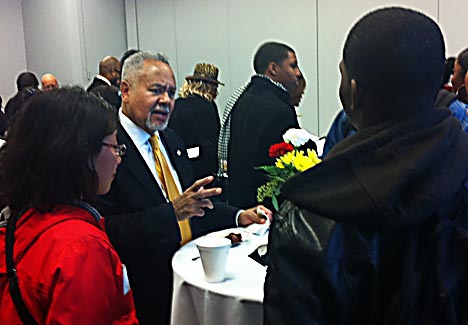 Civic leader and university trustee Murv Enders talks with students at a reception following his address at UIndy's 2012 Martin Luther King Jr. Day celebration.