Master of Public Health begins this fall
Program will prepare graduates to identify, combat health disparities
A new UIndy master's degree program will prepare professionals to identify health disparities and develop community-based approaches to close the gaps.
Debuting this fall, the two-year Master of Public Health program will be the only one in Indiana, and one of few in the nation, with a concentration in health disparities, the preventable differences in health among populations that can occur along lines of age, sex, ethnicity, geography, socioeconomic status and other factors. The program will emphasize hands-on experience while offering courses in a primarily online format.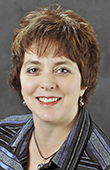 Changes in the healthcare industry are pushing providers to look beyond the immediate needs of individual patients and find proactive ways to improve health for entire communities, said Dr. Stephanie Kelly, dean of UIndy's College of Health Sciences.
"UIndy's new MPH is unusual among public health programs and is especially relevant in the culture of healthcare reform," said Kelly, an associate professor and physical therapist. "The concentration in health disparities has a broad focus, whether an individual has a goal of working within the public health field or is already working as a healthcare provider and wants to expand beyond the one-to-one impact of traditional healthcare."
Public health practitioners work to identify the root causes of health disparities and reduce or eliminate them through new programs, improved practices or changes in public policy. Opportunities abound in Indiana, which typically ranks among the Top 10 states for its high rates of obesity, diabetes and smoking. Within the state, according to the United Health Foundation, more than 50 percent of adults with high school degrees report very good or excellent health, but that is true for only 22 percent of those with less education. At the same time, there is broad recognition across the state of the need for more research and action to address such disparities.
The Master of Public Health degree is relevant to a range of career settings including hospitals, nonprofit service agencies and corporate wellness. Candidates for the program could be recent bachelor's degree graduates in fields such as social work or exercise science who want to expand their options, as well as doctors, nurses, physical and occupational therapists and other licensed professionals seeking to enhance their skills and broaden the scope of their work.
"It's going to be applicable to any field of public health," said UIndy Assistant Professor Shannon McMorrow, a public health educator who helped to design the new program.
The core curriculum includes courses in epidemiology, biostatistics, environmental health, social and behavioral sciences, health systems and policy, cultural competency and health disparities.  The program develops the skills public health practitioners need to be effective, such as advocacy, leadership, grant writing, and program planning and evaluation.
UIndy's hybrid MPH program combines online coursework and community-based projects with two weekend meetings on campus, a one-week summer intensive and a 400-hour professional practice internship.
Although the initial program focuses on health disparities, UIndy expects to develop other concentrations within the MPH program. The new program will be offered by the College of Health Sciences and ultimately based at a recently announced health sciences center that the university plans to begin constructing later this year.
More information about the new Master of Public Health degree is available at http://uindy.edu/health-sciences/master-public-health.