Prof named among 'influential Hoosiers'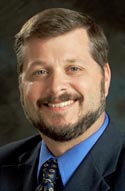 Professor Christopher Schmidt of UIndy's Department of Anthropology is celebrated in an Indianapolis Star column headlined "5 overlooked yet influential Hoosiers."
Schmidt, director of the department's Indiana Prehistory Laboratory, is cited for accomplishments including a student archeological dig that uncovered a 10,000-year-old bone tool, the oldest ever documented in Indiana. He's one of just two contemporary figures on the list, which also includes 1830s Indian leader Chief Menominee and Underground Railroad supporters Levi and Catharine Coffin.
The Star piece was penned by award-winning journalist, author and historian Nelson Price, host of the Hoosier History Live! radio show. He has featured Schmidt twice on the program, which airs at noon Saturdays on UIndy's WICR-FM/HD.
Though it's not clear that an internationally known scientist can be considered "overlooked" (Price himself uses the term "under-known"), we agree Dr. Schmidt is influential and deserves any attention he gets. Not one to rest on his laurels, he and his students have kept busy recently with projects including a May trip to Italy to study victims of the A.D. 79 eruption of Vesuvius, as well as a study of teeth from burials at Britain's Canterbury Cathedral to learn about the diet and social roles of medieval children.
Read Price's Star story here.