IR prof is featured speaker for elite D.C. event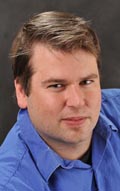 Associate Professor of International Relations Douglas Woodwell is heading to Washington, D.C., this weekend, and not just to watch fireworks on the National Mall.
Dr. Woodwell is the featured speaker for a special event hosted by the Truman National Security Project, an institute dedicated to developing the next generation of leaders in the realms of politics, policy and the military.
The program, "Ukraine and the Future of Nationalism in International Conflict," is described as "an intimate conversation on Ukraine and what challenges the United States will face as we seek to find a policy approach that balances the protection of sovereign states' territorial integrity with support for national self-determination." It takes place Monday at the U.S. Global Leadership Coalition Headquarters.
Woodwell, who holds a Ph.D. from Yale University, specializes in the study of international conflict. He blogs about global issues at woodwellontheworld.net.
UIndy offers a bachelor's degree as well as Indiana's only master's degree in international relations. Learn more here.