Prof recalls work at 1989 plane crash scene
On July 19, 1989, United Airlines Flight 232 lost an engine and all hydraulic controls on its way from Denver to Chicago, tumbling into the Sioux City, Iowa, airport in a fiery crash landing that was captured on video. Though 112 passengers died, 184 miraculously survived, due largely to the heroic efforts of the crew and rescue workers on the scene.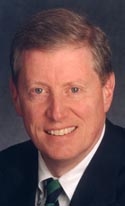 Tending to those workers and the wounded that day was a United Methodist minister and National Guard chaplain who just happened to be driving by with his family when he saw smoke and went to investigate. Gregory Clapper is now a professor of Philosophy and Religion at UIndy.
"Some of the bodies were still strapped in their seats, and some had been thrown clear," he recalls. "I approached some of the wounded passengers who were lying on the ground and talked to them briefly. I asked if anyone was still trapped in the wreckage, and they pointed toward the cockpit. I ran up to the cockpit and talked to some of the crew members while they were still trapped."
Clapper later wrote a book about the experience, When the World Breaks Your Heart: Spiritual Ways of Living with Tragedy, and made a cameo appearance as himself in an ABC-TV movie starring Charlton Heston.
This year, the survivors, the Sioux City community and the loved ones left behind will mark the 25th anniversary of the incident with a series of events. Clapper will emcee the official anniversary memorial service July 19 in Sioux City and will preach at three worship services the following day.
He also was interviewed extensively for a brand-new book, Flight 232: A Story of Disaster and Survival, written by Laurence Gonzales and published by Norton & Co. Publishers Weekly has called it a "gripping narrative," and Amazon has listed the title among its "Best Books of the Month" for July.
Working at the Flight 232 crash site has informed Clapper's academic work at UIndy and his 24 years of service as a commissioned chaplain in the U.S. Air Force, retiring recently as a colonel. He deployed overseas five times during the first and second Gulf Wars, served three stints as a chaplain on the psychiatric ward of the U.S. Army hospital in Landstuhl, Germany, and served four years on the headquarters staff of U.S. Africa Command in Stuttgart, Germany.
Survivors of tragic events are often left wracked with guilt, he says, feeling they could have done more to save others. The feeling can be spiritually devastating unless they learn to let go.
"Once we stop pretending that we can control everything, we can move ahead with the humbler, more modest tasks that we can control," Clapper says, "being gentle in response to anger, actively listening to a friend's painful story, visiting someone in the hospital or prison."