Charity bike trek has many UIndy connections
A brave teen with strong UIndy ties will stop by campus Saturday on a 700-mile bicycle journey to raise awareness and funding for the Arthritis National Research Foundation.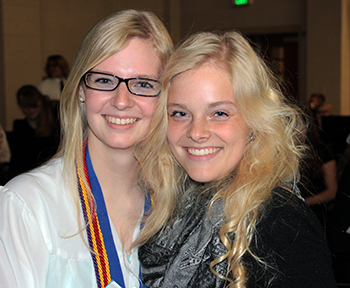 Bethany Catlin, a 17-year-old from Franklin who lives with juvenile idiopathic arthritis, is marking Juvenile Arthritis Month with a unique college tour: a week-long bike excursion with her father, Dan, from Franklin to Minneapolis, MN, stopping at several campuses along the way. The trip will raise money and awareness for ANRF's grants to top research scientists, and Bethany also hopes "to encourage other people not to be limited by disease or adversity," Dan says.
They'll leave from Franklin College on Saturday morning and by noon should hit UIndy, where the family has many associations. The closest involves Bethany's sister, Charissa, who will enter the university this fall as a Music Education major.
But the list goes on: Bethany's great aunt Cheryl Catlin Larson '66 '71 is an alumna and longtime School of Nursing faculty member, now retired. Four great-grandparents and aunt Rebecca Catlin '98 '00, a physical therapist, also are graduates. Great-grandfather W. Vern Longenbaugh '28 and great-great-grandfather Arthur Bertram Catlin served as university trustees.
Follow Bethany's journey at www.bethanywhere.com and learn more about the cause at facebook.com/CureArthritis.