Business school sees jump in enrollment
As UIndy welcomes its largest-ever freshman class this fall, the School of Business is seeing an increase of its own.
Enrollment in the introductory course for business majors, BADM 100, has risen to 126 from last year's 99, a jump of 26 percent.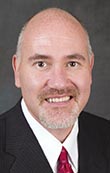 Business Dean Karl Knapp attributes the growth to several factors, including social media accounts aimed at prospective students and a UIndy Biz Hounds team of upperclassmen who reach out to younger students and coordinate involvement in campus organizations and professional societies. The more students and their families learn about the business program and other opportunities on campus, he says, the more they see an advantage in choosing UIndy.
Especially appealing to parents, he says, is learning how the business faculty draw on their industry connections, enabling students to partner with local businesses and tackle real-life problems in their UIndy classes.
"The biggest differentiation is that our professors have business experience," Knapp says. "We're doing things in this market that only we can do."