How they spent summer: NSF-funded research
Having never used fast-scan cyclic voltammetry to quantify serotonin release in mice with Huntington's Disease, we had to ask Sarah Fantin to explain how she spent her summer break.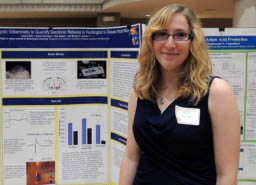 The senior Chemistry and Psychology major patiently described her research project at the University of Kansas, which involved applying electric potential to thin slices of mouse brain to generate a current, which can be measured to determine the levels of neurotransmitters present.
"Brain chemistry is kind of a weird thing to be interested in," she admitted. "But it's not as hard as it sounds, especially when you think it's interesting."
Fantin, who plans to pursue a Ph.D. and a career in the pharmaceutical industry, was one of several Greyhounds who conducted some serious lab work over the summer through the National Science Foundation's prestigious Research Experiences for Undergraduates program, which allows students to participate in cutting-edge research around the country. UIndy faculty members encouraged them to apply for the competitive program and in some cases employed their professional connections to help the students find projects in their fields of interest.
Other NSF-REU participants included:
Senior Biology/Chemistry/Pre-dentistry major Harleen Athwal, who studied the elaborate courting behaviors of male Habronattus clypeatus jumping spiders at the University of California, Berkeley.
Senior Biology and Chemistry major Clinton Knapp, who joined a study at the Georgia Institute of Technology on how cholera bacteria absorb DNA from their environment.
And junior Biology/Chemistry/Pre-med major Hannah Vormohr, whose work at the University of North Carolina at Chapel Hill involved using ultrasonic waves and a high-speed camera to study the elastic properties of various materials.