Arts center hosts Big Car anniversary show
Sept. 10 reception to feature live performances, interactive fun
UPDATE: See Indy Star photo gallery
AUDIO: Hear UIndy gallery director Mark Ruschman and Big Car founder Jim Walker on WFYI's The Art of the Matter. (Interview begins around 36:30.)
PRINT: Read Indianapolis Star story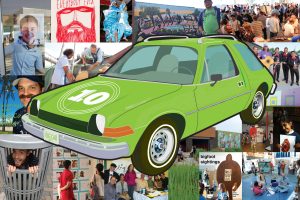 Big Car, the local arts and community-building collective, is celebrating its 10th anniversary with a multimedia exhibition and an evening of performances at the University of Indianapolis.
Big Car, No Brakes: 10 Years of Creating Vibrant Collisions runs through Sept. 26 in UIndy's Christel DeHaan Fine Arts Center Gallery. A Sept. 10 reception will include a free retrospective revue of live music, readings and theatrics in the adjacent Ruth Lilly Performance Hall.
Founded in 2004 as a loose affiliation of artists, musicians and writers, Big Car is known for collaborative projects ranging from the avant-garde to the family-friendly, often with an eye toward urban revitalization. While evolving into an established nonprofit organization with a full-time staff and a national reputation, the group helped to transform the Fountain Square neighborhood into a cultural destination. After three years of similar work from a base near Lafayette Square mall, Big Car is now developing sites around the city to engage residents in various creative endeavors.
The multimedia gallery exhibition comprises 10 stations highlighting projects and initiatives the group has undertaken in its decade of existence, each with related images, artifacts and video displayed on monitors. A central space includes interactive elements that allow visitors to make their own contributions to the show, which is open weekdays from 10 a.m. to 4:30 p.m., and until 9 p.m. on Sept. 11, 15, 17, 18 and 22.
The Sept. 10 reception will run from 4 to 8 p.m., with the live show beginning at 6:30 p.m. Performers will include poets, performance artists and musical acts that have taken part in Big Car events over the years, including Beat Debris, Brandon Schaaf, Mannish Boy and El Cameron Electronico.
Big Car's 10th anniversary event and exhibition are made possible with support from Indy Mod Homes, SmallBox, Buckingham Foundation, Sam Sutphin & Kerry Dinneen, Magnet Films, The Alexander, Harding Poorman, and the University of Indianapolis.
The CDFAC Gallery is operated by UIndy's Department of Art & Design.
Big Car, No Brakes: 10 Years of Creating Vibrant Collisions
What: Interactive, retrospective, multimedia exhibition marks 10th anniversary of local arts collective Big Car.
Where: UIndy's Christel DeHaan Fine Arts Center Gallery, 1400 E. Hanna Ave.
When: Through Sept. 26
Gallery hours: 10 a.m. to 4:30 p.m. Monday through Friday; open until 9 p.m. on Sept. 11, 15, 17, 18 and 22.
Reception: 4-8 p.m. Sept. 10; live performances at 6:30 p.m.; free admission
Information: www.uindy.edu/arts or (317) 788-3253