Regional health career center moves to UIndy
MICI-AHEC fits well with university's strength in health professions
A regional program that recruits and retains healthcare professionals to work in underserved communities has a new home at the University of Indianapolis.
UIndy now hosts the Metropolitan Indianapolis/Central Indiana Area Health Education Center, known as MICI-AHEC, which is active in Marion and the eight surrounding counties. It is one of eight regional AHEC centers around the state dedicated to this special kind of workforce development, which is based on research showing that health professionals tend to serve communities where they grew up and received their training.
"With our School of Nursing, College of Health Sciences and other health-related programs, not to mention our culture of community engagement and service, UIndy is a leader in the field and a natural choice to host this important program," said Deborah Balogh, executive vice president and provost at UIndy. "We also look forward to integrating this new office with our operations and creating new opportunities for our students and faculty."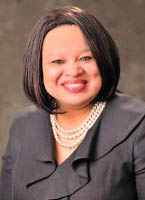 Executive Director Kimberly McElroy-Jones will continue to lead the MICI-AHEC, as she has since its founding in 2006. The office and its seven staff members are located in the Fountain Square Center on Shelby Street, where UIndy shares space with community organizations. The change comes as the university prepares to foster greater multidisciplinary collaboration by moving its schools of nursing, physical therapy, occupational therapy, psychology and other health-related programs into the new four-story Health Pavilion that is now under construction at the main campus on Hanna Avenue.
The Indiana AHEC Network, housed at the IU School of Medicine, is a public-private partnership that receives federal and state support to facilitate collaboration among community organizations and education and healthcare institutions. Its three key areas of activity regarding healthcare professionals are:
Find them: Presentations, summer camps, job shadowing programs and other outreach efforts to build interest in health professions among K-12 students, undecided college students and adult career-changers from disadvantaged backgrounds and under-represented minority communities.
Train them: Clinical training and service-learning opportunities for current students in physical and mental health fields, designed to steer them toward careers in primary care serving vulnerable populations.
Keep them: Continuing education opportunities for physicians, nurses, dentists and other practicing health professionals serving in primary care and in rural and medically underserved settings
"The alignment between the missions of the University of Indianapolis and our network is exceptional," said Indiana AHEC Network Director Richard Kiovsky. "I have no doubt that this AHEC will thrive amid this new partnership."
Learn more about the mission of the MICI-AHEC here.