Pep rally kicks off Homecoming Week fun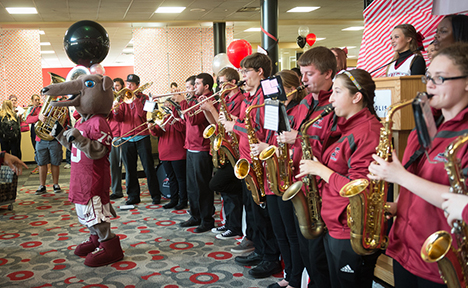 The UIndy Pep Band performs at today's lunchtime pep rally, setting the mood for a week of activities leading up to Saturday's Homecoming 2014 celebration.
Homecoming Week is in full swing on the UIndy campus, starting today with a pep rally and continuing with events each day, many of them open to the public.
The long list of activities includes a carnival from 5 to 7 p.m. Tuesday in UIndy Hall, followed by stargazing on Smith Mall at 7 p.m.; Wednesday night's sold-out appearance by celebrity astrophysicist Neil deGrasse Tyson; Thursday night's concert by the Plain White T's; and the annual Alumni Honors and Recognition Banquet on Friday. The Class of 1964 is having its 50-year reunion this year.
Saturday is Game Day, as the Greyhounds face the Lincoln University Blue Tigers at 6 p.m. in Key Stadium. Halftime festivities will include the crowning of the Homecoming king and queen and a musical performance by singer-songwriter and UIndy graduate Addie Kosten, last year's queen.
The Game Day action actually begins at 9 a.m. Saturday with the inaugural Hound Hustle 5K run/walk, taking participants on a tour of the campus and University Heights neighborhood. From 3 to 6 p.m., visitors can enjoy Tailgate Town outside the stadium at Hanna and State avenues, with music, games, inflatable attractions, food for purchase and more. Academic departments will host free activities including an interactive mock crime scene where visitors can learn about forensic science and a caricature booth with UIndy alumnus Gary Barker, acclaimed comic artist and longtime assistant cartoonist for Jim Davis' "Garfield" strip. A 200-foot portable zip line along the north side of Hanna Avenue also will be available for free rides from 3 to 6 p.m.
The Homecoming Parade will begin at 4 p.m. Saturday and proceed down Hanna Avenue, with classic cars, a clown band and golf-cart floats decorated by students to represent their campus organizations and residence halls.
For safety reasons, Saturday's activities will require lane closures on Hanna Avenue between Shelby Street and State Avenue. The westbound lanes will be closed from 2 to 6 p.m., and all lanes will be closed from 9 to 9:40 a.m. and from 3:45 to 4:45 p.m. Police and volunteers will guide traffic to detour routes along Standish Avenue to the north and Lawrence Avenue to the south.
More information on these and other events is available at www.uindy.edu/homecoming.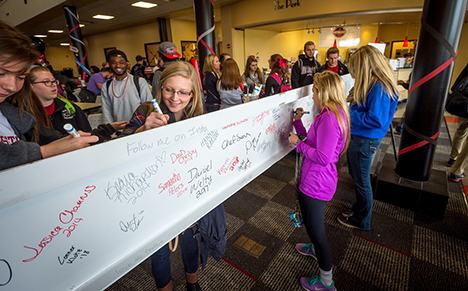 Students take time out to sign a construction beam for the UIndy Health Pavilion, which is now taking shape at Hanna and State avenues. The beam will be in the Schwitzer Student Center atrium all week to be signed by students, faculty, staff, alumni and community leaders. A "topping out" ceremony, when this final structural beam is hoisted into place, will take place Nov. 4.