Greyhounds notch four-OT win on national TV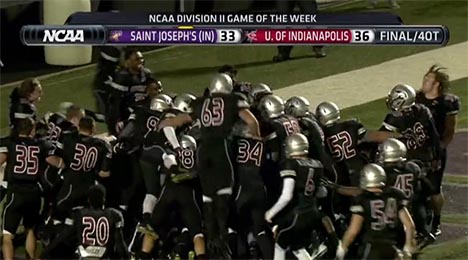 The Greyhounds, soon to be joined on the field by thousands of Hound Pound supporters, celebrate after their 36-33 four-overtime win Thursday in Key Stadium.
UIndy football enjoyed a historic moment Thursday night with a hard-fought win over Saint Joseph's College in the Greyhounds' first-ever nationally televised game.
Airing on the CBS Sports Network, the clash of in-state rivals kicked off at 8 p.m. and stretched nearly to midnight. Tied at 17 after four quarters, the rain-soaked contenders battled through four overtimes before senior kicker Scott Miller sealed the deal 36-33 with a 35-yard field goal, his third of the night. Senior QB Connor Barthel passed to junior Reece Horn and senior Logan Young for two touchdowns and later rushed for two himself during the overtime period.
"Simply put — A national TV audience on @CBSSportsNet watched the greatest game in #GLVCfb history," the Great Lakes Valley Conference said on its official Twitter account.
"I nominate @uindy's victory over Saint Joseph's as Indiana's college game of year," tweeted Indianapolis Star sportswriter Michael Pointer.
Indianapolis Star story and photo gallery