In the news: UIndy alums make their mark
UIndy alumni are always making news of some sort, but here's a sampling from the past week or so:
Patrick Moyers, Class of 2003, has been named general manager of Circle Centre Mall in Indianapolis by Simon Property Group. As such, he is responsible for overseeing daily operations and enhancing the mall's status as a downtown retail destination.
Moyers has been with Simon for more than 14 years, most recently as general manager of the Fashion Mall on the north side. He also is a graduate of Franklin Central High School. Read more here.
*               *               *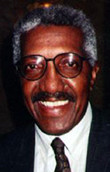 Stanley Warren, Class of '59, received UIndy's Distinguished Alumni Award in 1993. He got another one Saturday from the Indiana University School of Education.
After his own schooling, Warren went on to become dean of academic affairs and professor of education at DePauw University. He has served on countless boards, won many awards, written several books and continues to write, consult and speak on education issues and African-American history, according to an IU news release, where you can read more about him.
*               *               *
We know her as Nikki Grotenhuis, a 2007 Communication graduate, active member of UIndy's Alumni Association Board of Directors and frequent guest speaker and volunteer on campus. Central Indiana radio listeners know her as Nikki Reed, afternoon drive personality and music director at WZPL-FM 99.5.
And now, readers of the Indianapolis Star know her as one of this year's Indy Super Singles, 10 unmarried local residents who were deemed most appealing in a public contest coordinated by the newspaper. Read about her and the other Super Singles here.