Hounds claim GLVC soccer, football titles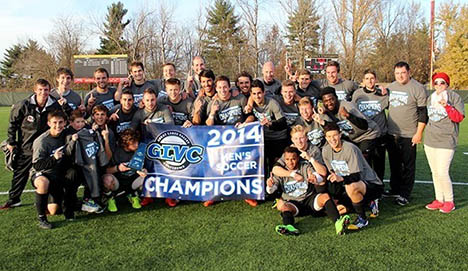 The UIndy men's soccer team claimed the program's first-ever Great Lakes Valley Conference championship Sunday with a 3-1 win over top-seeded host Quincy University.
The sixth-seeded Hounds upset No. 17 Drury 1-0 on Friday to advance to their second consecutive conference final, then became the lowest seed in tournament history to claim the title.
Selections for the Division II Men's Soccer Championships will be announced tonight on NCAA.com. Learn more about the team on the Athletics website.
The 25th-ranked UIndy football team also clinched a GLVC title — its third straight — Saturday with a 30-12 win over Missouri S&T. The Hounds are 22-0 in conference games since the GLVC began sponsoring football in 2012.
The team's final regular season game is Saturday at home against William Jewell, with kickoff set for 4 p.m. in Key Stadium.