Lugar to headline global trade discussion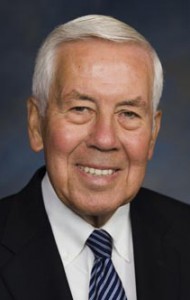 UIndy Distinguished Professor Richard Lugar will headline a high-level discussion on global trade and investment Wednesday on campus.
The event is this month's installment of the Indy Chamber's "Ask the Experts" lunch discussion series. Thiago Scantamburlo, supply chain and logistics manager for Roche Diagnostics Corp., will moderate a panel that also will include John Dunavant, vice president, Central Region AGFS, FedEx Express; Robby Beau, managing director, U.S. International, FedEx Express; Janette Hutton, executive director, international treasury sales, JPMorgan Chase; and Mike Rubey, managing director and global trade sales executive, JPMorgan Chase.
"Ask the Experts: Global Indy" will run from 11:30 to 1:30 in Schwitzer Student Center's UIndy Hall. Registration details are here.
The former U.S. senator and Indianapolis mayor also will speak on campus Dec. 6 when UIndy's Richard G. Lugar Academy hosts its annual Lugar Symposium for Tomorrow's Leaders, with hundreds of Indiana high school juniors in attendance.