In the news: Archeology & Forensics Team
Dr. Krista Latham and the student team from UIndy's Archeology & Forensics Laboratory are subjects of the cover story in the latest NUVO Newsweekly.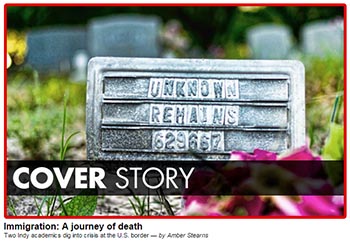 In an extensive piece headlined "Immigration: A journey of death," NUVO News Editor Amber Stearns (a UIndy alum) wrote about the team's humanitarian work over the past two years: Two trips to southern Texas to exhume remains, and further work in the campus lab, in hopes of identifying undocumented migrants who died after crossing the border, typically of thirst or exposure.
"Not only do people deserve dignity in death, but someone out there is missing them," Latham says in the interview. The story also features fellow anthropologist Wendy Vogt of IUPUI, a colleague who has traced the difficult path of refugees from Central America to the United States.

This week's NUVO is available at locations throughout the city, and the story can be read online here.
In related news, The Weather Channel and Telemundo recently collaborated on a one-hour investigative report, "The Real Death Valley," which mentions the Texas project and includes comments from Dr. Latham. The program can be seen here, and the UIndy material appears around the 21:00 mark.
The UIndy team's blog documenting this summer's work is still viewable at beyondborders.uindy.edu.