Lugar to discuss conflict in world, Washington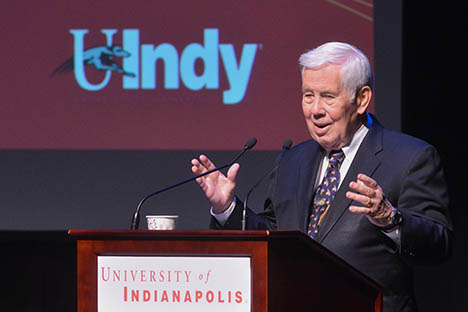 Richard Lugar speaks at the 2013 Lugar Symposium for Tomorrow's Leaders.
Statewide symposium will bring 450 select high school juniors to campus
In what he has often described as his most important annual public speech, former U.S. Sen. Richard Lugar is expected to discuss the threat posed by ISIS and the need for post-election bipartisanship during a public address Saturday at the University of Indianapolis.
The occasion is the 38th annual Lugar Symposium for Tomorrow's Leaders, which will bring 450 select Indiana high school juniors and 150 accompanying adults to the UIndy campus for a morning program featuring Lugar's keynote speech, a chance to meet and take photos with the Nobel Prize nominee, and an afternoon of expert-led small group discussions on national and global issues.
New this year will be a reunion and lunch for alumni and current students in UIndy's History, Political Science and International Relations programs.
Lugar, who continues his advocacy and public service work through the nonprofit Lugar Center in Washington, D.C., is a former trustee and current distinguished professor of political science and international relations at UIndy. The university is home to the Richard G. Lugar Academy, which offers internships in the nation's capital and other leadership programming for college and high school students.
Preceding the keynote, Lugar will present the 2014 Richard G. Lugar Distinguished Student Leadership Award, which includes a $1,000 cash prize, to Lawrence North High School senior Edric Zeng. Zeng, who was eligible to apply after attending last year's symposium, is a top student with a stellar record of leadership and service that includes serving as student body president, president of the school's Key Club, a member of the swim and speech teach teams, a National Honor Society member and a local hospital volunteer.
HIGHLIGHTS
9:30 a.m. – media availability with Richard Lugar – Esch Hall west lobby
10 to 11:30 a.m. – opening program and keynote address – Ransburg Auditorium
11:30 a.m. to 1:30 p.m. – student photos with Lugar – Athletics & Recreation Center
1:45 to 3 p.m. – small group discussion session 1 – various locations
3:15 to 4:30 p.m. – small group discussion session 2 – various locations
AFTERNOON DISCUSSION SESSIONS
U.S. Leadership in the World
Blaise Misztal, acting director, Foreign Policy Project, Bipartisan Policy Center
Brian Pawlowski, intelligence officer supporting the Defense Intelligence Agency
Terrorism
Doug Woodwell, associate professor of international relations, University of Indianapolis
Why History Matters
James Williams, associate professor of history, University of Indianapolis
Leah Nahmias, director of Programs and Community Engagement, Indiana Humanities
Protest Movements
Chad Martin, assistant professor of history, University of Indianapolis
Milind Thakar, associate professor of international relations, University of Indianapolis
Human Trafficking
Abigail Kuzma, senior policy advisor, director and chief counsel, Consumer Protection Division, Indiana Office of the Attorney General
Jessica Thorne, Purchased.org