$1 million gift to endow Honors College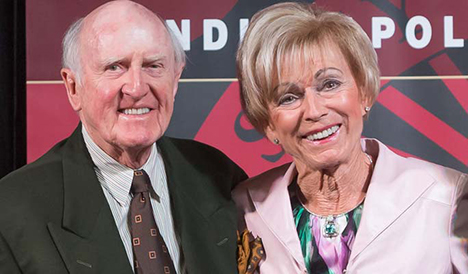 Ron Strain is retired as vice president-finance and treasurer at Miller Brewing Co. Laura Strain is retired as senior vice president for marketing and public relations with U.S. Bank East Group. They met as UIndy students and now serve on the university's Board of Trustees.
Alumni Ron and Laura Strain support program for top students
The University of Indianapolis Honors College is being renamed in honor of two UIndy alumni and trustees who are providing a $1 million endowment to fund and enhance its operation.
Now known as the Ron and Laura Strain Honors College, the program provides top students with rigorous coursework and opportunities for leadership, service, independent study and faculty-guided research.
"This program represents UIndy at its best: Identifying young people with strong potential and helping them develop into engaged citizens who contribute to their communities," university President Robert Manuel said. "We are extremely pleased that the Strains recognize the value of this work and are providing support that will transform the opportunities in this area."
Ron Strain, who grew up in Indianapolis, is retired as vice president-finance and treasurer at Miller Brewing Co. His wife, Laura, originally from Odon, Ind., is retired as senior vice president for marketing and public relations with U.S. Bank East Group. Now living in Naples, Fla., they met as students at UIndy and joined the university Board of Trustees in 2013.
"UIndy holds a special place in our hearts, since it is where we met and grew into adulthood," the Strains said in a written statement. "We are thankful for the foundation UIndy provided, which defines who we are today as individuals and as a couple.
"Our goal is for students participating in the Honors College to become immersed in an interdisciplinary learning environment – one that will provide the skills needed for lifelong personal and professional success."
The Ron and Laura Strain Honors College is open to students in all majors and schools, including those enrolled in pre-professional programs. Freshmen entering the university under certain scholarships are invited to apply for admission, and other students may apply if they meet grade and credit requirements.
For each member, the experience culminates with the organization and execution of an approved honors project, a record of which is bound and housed in the permanent collection of UIndy's Krannert Memorial Library. Students who fulfill all requirements graduate "with distinction."
Honors College Executive Director Amy Allen Sekhar, an associate professor of French, said the new endowment will establish a substantive annual budget for the program's academic operations, including interdisciplinary study, conference attendance for selected students, promotion of presentations and underwriting of faculty-undergraduate research. Initiatives that have been discussed as possibilities now seem within reach, she said, such as organizing more events for the broader campus community, launching a speaker series and creating a larger grant pool to which member students can apply to fund community-based service and engagement projects.
"This funding will jump-start some of the initiatives we've been discussing," said Sekhar, who leads the program with Associate Director Christopher Moore, an assistant professor of anthropology and earth-space sciences. "We're at a really exciting juncture right now, and this gift is going to catapult us to the next level of development. For that, we're very grateful."
More information about the Ron and Laura Strain Honors College is available at www.uindy.edu/honors.