New initiative targets misconduct, wellness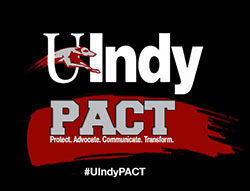 SIGN AND JOIN
Sexual misconduct on college campuses has emerged as a national concern, but UIndy is taking proactive steps to maintain a safe atmosphere for students, employees and visitors.
Starting Monday, the Division of Student and Campus Affairs is launching UIndy PACT, a campaign to promote interpersonal concern and accountability on issues of sexual violence, relationship abuse, harassment, drug and alcohol abuse, mental health, general safety and bystander responsibility. The acronym stands for "Protect. Advocate. Communicate. Transform." The goal is to raise awareness and support a culture in which members of the campus community look out for one another.
Each day this week from 11:30 a.m. to 1 p.m., tables in Schwitzer Student Center will feature information, prize giveaways and computers where students, staff and faculty can sign an online petition and join the movement. Each person who signs will receive a UIndy PACT T-shirt, a PACT Commitment Card and a shout-out on UIndy social media accounts.
Decals and flyers to be displayed around campus explain the initiative and offer QR codes that take mobile devices directly to the petition and to UIndy's Anonymous Reporting Form, where incidents and suspicions of sexual violence and related concerns can be channeled to campus authorities for appropriate action. The signs also include phone numbers for the UIndy Title IX office, University Police, the Health & Counseling Center, an off-campus crisis hotline and Indianapolis police.
The university is developing a schedule of related events and programming, which will be found on a new UIndy PACT channel on My UIndy.
More information on sexual misconduct resources at UIndy can be found here.