New dean announced for School of Business
Higher-ed veteran brings decades of teaching, administrative experience
The University of Indianapolis has selected an experienced educator and administrator to be the new dean of its School of Business.
Lawrence Belcher will come to UIndy in June from Taylor University, where he has led the undergraduate business program since 2011 and holds the Arthur L. Hodson Endowed Chair in Business as a professor of finance and economics.
He previously served more than two decades at Stetson University in Florida, where he was professor and chair of finance and directed the George Investments Institute, which included a nationally acclaimed program in which students manage a real stock and bond portfolio worth nearly $3 million. He also led seminars on financial markets for top Disney executives at Walt Disney World Leadership Conferences in Orlando.
Belcher's specialties include financial market theory, derivative markets and macroeconomic theory and policy. He has published research in academic journals and has provided commentary to such news outlets as the New York Times, the Washington Post, the Wall Street Journal and the Chronicle of Higher Education. Among other memberships, he is a board member and president-elect of the Financial Education Association.
His range of leadership experience and his philosophy of student-centered learning made him the top candidate after a national search to fill the UIndy post, said Deborah Balogh, the university's provost and executive vice president for academic affairs.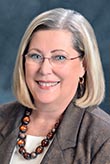 "Dr. Belcher brings the ideal balance of teaching, scholarship and administrative acumen to this position," Balogh said. "He has developed and overseen graduate programs, but he also understands the value of undergraduate business programs with a strong foundation in the liberal arts."
Belcher holds a doctorate in economics from Indiana University, a master's degree in economics from Auburn University and a bachelor's degree in mathematics with economics from Hanover College. At UIndy, he looks forward to engaging with alumni and local business leaders to develop new programs.
"We want to raise our visibility in the central Indiana business community and really explore partnership possibilities that will benefit UIndy students as well as the city and state," he said.
A graduate of Jeffersonville High School in southern Indiana, he and his wife, Susan, live in Yorktown but plan to relocate to the Indianapolis area. They have two sons, aged 19 and 21.
UIndy's School of Business offers 12 undergraduate majors covering all aspects of business, as well as a master's degree in accounting and a range of full-time and part-time MBA options. More information is available at www.uindy.edu/business.