Olympic swimmer will share his story Tuesday
Groundbreaking and record-breaking Olympic gold medal swimmer Anthony Ervin will appear on campus Tuesday to share his story of triumph over adversity, and for that, students can thank senior Communication major Hayley Good.
Ervin, who claimed gold and silver at the 2000 Olympic Games and two more gold medals at the 2001 World Championships, will speak at 9 p.m. Tuesday in Schwitzer Student Center's UIndy Hall.
His success is notable in part because he battled Tourette syndrome as a kid and was the first swimmer of African-American heritage to medal in Olympic swimming. (He also has American Indian ancestry and was raised in the Jewish faith.) Then, in 2003 at age 22, he retired from competitive swimming and later auctioned off his Olympic gold medal to support tsunami relief in South Asia. However, in a virtually unheard-of move, he returned to the sport in 2011, competed in the 2012 Olympics and now hopes to swim in the Rio 2016 Games.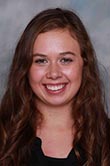 Good, who swam for three years as a Greyhound, went to the same high school as Ervin in Santa Clarita, Calif., and also swam on the same club team.
"I met him at a high school swim reunion a few years ago and have heard him speak at various events," she said. "I am friends with him on Facebook and asked if he would be interested in coming to speak, because I think that he has had a lot of life experiences that people can relate to."
Good took the idea to assistant athletic director Daryl Gibbs, whose duties include arranging special events for UIndy athletes. He lined up some NCAA grant money to fund the visit by Ervin, who offered a substantial discount from his usual speaking fee.
"She gets all the credit," Gibbs said of Good, who needless to say is looking forward to the appearance.
"I'm really excited to be helping facilitate this event and have Anthony share his story," she said.