Blood and marrow drive honors CELL director
A blood drive and bone marrow registry event Wednesday on campus will honor Dave Dresslar, executive director of UIndy's Center of Excellence in Leadership of Learning, whose battle with leukemia has been aided by a marrow transplant.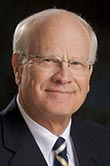 The CELL staff, Campus Program Board, Department of Athletics and other campus groups have joined forces to organize the "Live to Give" event, which runs from noon to 5 p.m. Wednesday in Schwitzer Student Center's UIndy Hall A.
Participants may donate blood to the Indiana Blood Center, agree to become a marrow donor through the national Be The Match Registry®, or contribute financially to the registry effort. The UIndy initiative already has collected more than $3,500 for Be The Match, which recruits donors, supports patients, educates doctors and funds research. Simply testing and storing samples for a new marrow donor costs about $100. (Potential marrow donors must be 18-44 years old to join the registry at this event.)
To make an appointment to donate blood Wednesday, click here.
To learn more or make a financial contribution to Be The Match, click here.
Dresslar told his personal story in a testimonial written for the donation drive.
"I am alive today only because of the generosity of my donor, and my appreciation for him is as sincere as if I knew him well," he wrote. "What makes this most remarkable is the fact that he did it for a total stranger without any expectation that he would ever be recognized for such a selfless act of humanity."