2017 Faculty/Staff Awards announced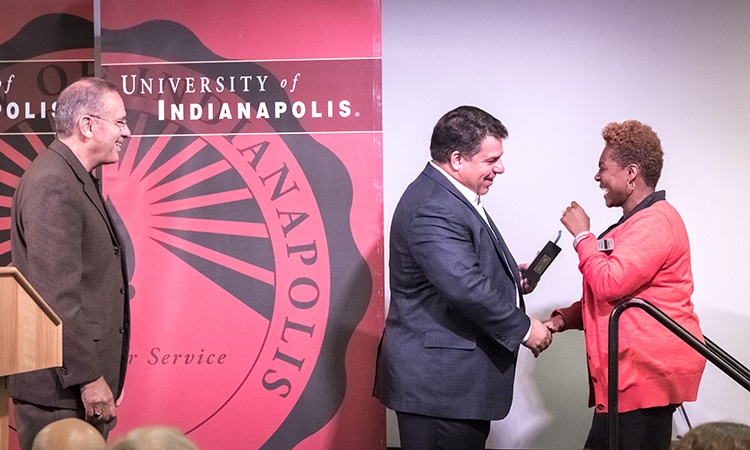 The University of Indianapolis recently recognized outstanding achievements of University employees with the announcement of the 2017 Faculty/Staff Awards. The awards highlight exceptional performance, commitment to teamwork, student mentorship and overall excellence.
2017 University of Indianapolis Faculty Awards
Faculty Achievement Award for Research: Katie Kivisto

Katie Kivisto, assistant professor in the College of Applied Behavioral Sciences, has an extensive research collaboration with the Fairbanks Alcohol & Drug Addiction Treatment Center, and recently was awarded a $300,000 grant from the National Institute of Health for her work to better treat negative emotional response that may inhibit the recovery process for addicted adolescents.

Faculty Achievement Award for Leadership: Matt Will

Matt Will, associate professor of finance in the School of Business, leads a highly effective student recruitment team which has helped to increase enrollment and quality of students. Matt was recognized for his unwavering commitment to the University, School of Business and community.

Faculty Achievement Award for Service: Elizabeth Turner

Elizabeth Turner, instructor in the School of Education, has brought enlightened ideas and inspiration to help re-envision the University's elementary education major. She is recognized for her commitment and passion for substantial change at the systems level.


Faculty Achievement Award – College of Health Sciences: Elizabeth Moore

Elizabeth Moore, assistant professor in the College of Health Sciences, collaborates extensively across several disciplines and has developed a scholarly niche in the area of interprofessional education, which is consistent with the strategic goals within the UIndy Health Pavilion.

Faculty Achievement Award for Scholarship: Stephanie Kemery

Stephanie Kemery, assistant professor in the School of Nursing, has delivered numerous presentations and represented the University at industry conferences. Stephanie serves as an advocate for members of the LGBTQ community and has spoken at conferences on health-related issues impacting the LGBTQ community. She is pursuing her Ph.D. in Nursing.

Faculty Achievement Award – Shaheen College of Arts & Sciences: Katherine Fries

Katherine Fries, assistant professor of art & design, has had a major impact on the UIndy campus since joining the University in 2014. She created a completely new curriculum, advocated for new equipment and established professional and community partners. Fries, also an alumna, helped to establish the University's letterpress programs as one of the top programs in the state.

Faculty Achievement Award – Shaheen College of Arts & Sciences: Marc Milne

Marc Milne, assistant professor of biology, is a transformative influence on his field. His research has been nationally recognized for advancing scientific knowledge of new species and he continually incorporates students in his fieldwork. He has discovered 100 spider species previously unknown to Indiana, including four entirely new species.  
Faculty Achievement Award – Shaheen College of Arts & Sciences: James Fuller

James Fuller, professor of history, has successfully established himself as a national Civil War historian, as noted by the Truman Presidential Library. He is noted for his commitment to service projects on campus and in the community, and for being an inspiration to his students.
University of Indianapolis 2017 Staff Awards

Staff Unsung Hero Awards: Gail Cooper and James Wilson

Gail Cooper, the director of the University's Department of Information Technology, routinely spends additional hours to assure technology for events is working efficiently, in addition to making time to meet with faculty and staff one-on-one.

James Wilson, assistant registrar for Online and Data Services, contributed in a significant way to the positive outcome of the University's compliance review, and his work has become the backbone of the annual academic program review process.
Staff Emerging Leader Award: Cecilia Van Wijk
Cecilia Van Wijk, administrative assistant for the School of Social Work, is widely admired for her exceptional interpersonal skills, high level of professionalism and ability to solve problems.
Staff Enhancing the Student Experience Award: Jennifer Smith
Jennifer Smith, assistant director of the Professional Edge Center, works passionately to engage students in need, and approaches her duties with a student-centered focus. Students gravitate towards Jennifer because of her authenticity and always optimic attitude.

Spirit of UIndy Award: Ned Shannon
Ned Shannon, head athletic trainer, has helped multiple student-athletes through his experience, expertise and first-responder knowledge. A valued member of the UIndy family for more than 20 years, he was able to save the life of an athletic coach in 2016 by administering CPR and AED while the coach suffered cardiac arrest.
Beyond UIndy Award: Jolanda Bean

Jolanda Bean, assistant director of University Admissions, serves students and other young people in the community, as well as her peers and a number of service organizations such as Starfish and Center for Leadership Development.

Collaborative Spirit Award: Administrative Staff in the Office of Financial Aid

Lezza Harman, Nancy Sanders, Chivonne Kelly and Cambi Willsey function as a truly incredible, knowledgeable and hardworking team within the Office of Financial Aid. They are integral in helping many students achieve their goal of graduation, and they conduct their duties with compassion and empathy.