New dean to lead Psychological Sciences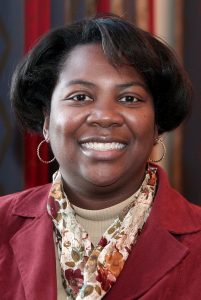 A clinical psychologist and educator known for her research on counseling, culture and identity will be the new dean of the School of Psychological Sciences at the University of Indianapolis.
Anita Jones Thomas brings substantial administrative experience from her work at Loyola University Chicago, where she began teaching in 2005, spent three years as director of the graduate program in counseling psychology and served most recently as associate dean of academic affairs and research in the School of Education. She taught previously at Northeastern Illinois University and National Louis University.
UIndy's School of Psychological Sciences will relocate this fall to the new Health Pavilion on campus, where all the university's programs in physical and mental health and wellness will share space with healthcare industry partners to facilitate learning, research and provision of clinical services.
"With her background in promoting interdisciplinary programs and community partnerships, Dr. Thomas is the right person at the right time for this leadership role," Executive Vice President and Provost Deborah Balogh said. "Her experience as a licensed psychologist is a great fit for a school with strong advanced degree programs in applied psychology."
Thomas holds a doctorate in counseling psychology from Loyola University Chicago, specializing in family therapy and multicultural counseling. She also earned a master's degree in community counseling from Loyola and a bachelor's degree in education and social policy from Northwestern University.
Originally from Louisville, Ky., Thomas looks forward to moving to Indianapolis with her 9-year-old twins.
"This is an exciting time for psychology, as more opportunities are being opened for interdisciplinary work as health services professionals," said Thomas, whose appointment is effective July 1. "I'm very enthusiastic to be joining this nationally recognized school for the move to the Health Pavilion."
UIndy's School of Psychological Sciences offers multiple bachelor's degree options as well as nationally respected master's and doctoral programs in clinical psychology. The school also operates the Psychological Services Center, a training and research facility that provides clinical experience for advanced graduate students while offering comprehensive evaluation and therapy services to individuals, families and organizations. More information is available at psych.uindy.edu.