Losses fuel alum's drive to run the Mini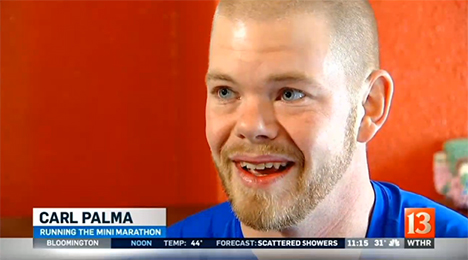 UIndy alum Carl Palma made the WTHR news last night for the inspirational story of why he competes in the annual 500 Festival Mini Marathon.
Palma graduated in 2008 with majors in both Athletic Training and Exercise Science. Now married with three kids, he is a licensed athletic trainer with Community Health Network and has worked the past several years as Beech Grove High School's athletic trainer.
A few years ago, he was tipping the scales at 265 when he began running at the suggestion of his mother, who later passed away from breast cancer. Down to 165 pounds now, he will run his fourth Mini on May 2, as always, in honor of his mother. Last year's marathon took place on his mother's birthday, and that's when WTHR's camera first caught him, in an emotional moment at the finish line.
"To be in the spotlight and do it for my mom was incredible," he said.
Read or watch the story here.